Source: African Union
The idea of a Women's Decade was hatched in 1975 by the United Nations at the First World conference on Women that was held in Mexico City. Since then, African women have been involved, and continue to participate in local and international consultations on women's rights and gender equality. African women's contributions have enriched discussions at the subsequent Women Conferences in Copenhagen (1980), Nairobi (1985) and Beijing (1995).
The aim of the African Women's Decade is to advance gender equality by accelerating implementation of Dakar, Beijing and AU Assembly Decisions on Gender Equality and Women's Empowerment (GEWE), through dual top down and bottom up approach which is inclusive of grassroots participation.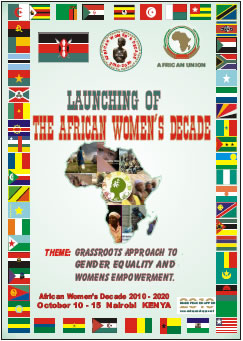 African Women's Decade 2010-2020 Annual Report
Three years on since the launch of the African Women's Decade,where are we? In 2013, the continent celebrated the 10th anniversary of The Protocol to the African Charter on Human and Peoples' Rights on the Rights of Women in Africa, which was adopted by the African Union on July 11, 2003 in Maputo, Mozambique to supplement the African Charter on Human and People's Rights. read more...
The year 2012 has thus far proved promising for the African woman's status within public bodies. Women are beginning to break the political glass ceiling in many countries and finding their way in roles traditionally occupied by men. According to the 2012 data from the Inter- Parliamentary Union, women occupy 20.2% of parliamentary seats in Sub-Saharan Africa, which is slightly higher than the world average of 19.5%. read more...
One year ago, the African Union declared 2010-2020 as African Women's Decade. The theme of this year is "Health, Maternal Mortality and HIV/AIDS". This decade is a promise from African governments and the African Union to promote women's rights and achieve gender equality in Africa. read more
Additional Resources
The Road Map Of The African Women's Decade 2010-2020
Walking The Talk - Gender Equality in The African Union
The Planning Meeting on The African Women's Decade at The Margins of The 54th Session of the CSW
MEWC AWD FACTSHEETs

MEWC has produced factsheets on core facts and data from the 2013 MEWC AWD report. Please click on the subject you are interested in to see a pdf factsheet.