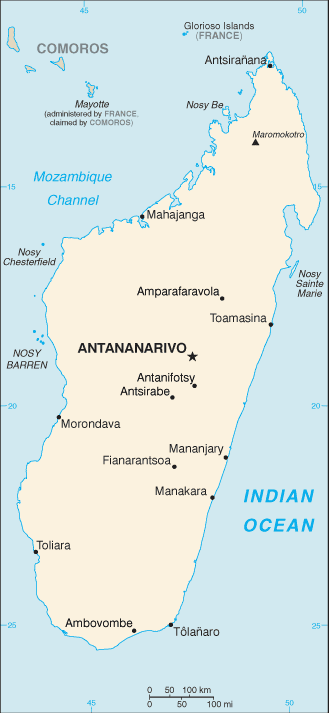 The Republic of Madagascar has an estimated population of 20.1 million (UN, 2010). The capital is Antananarivo. Madagascar has an area of 587,04 sq km (226,658 sq miles). The main languages are Malagasy (official), and French.
Madagascar gained it's independence from France in 1960. Since then, the government in Madagascar has been relatively fragile. Political unrest erupted into violence in January 2009, which forced the president to step down. The presidency was then conferred to the mayor of Antananarivo. According to the World Bank, around 70 percent of the population in Madagascar lives in poverty.
Although the constitution in Madagascar prohibits any discrimination on grounds of gender and gives equal rights to men and women, in reality, women are still discriminated against and violence against women is widespread.
 
The Convention on the Elimination of All Forms of Discrimination against Women (CEDAW) was ratified by Madagascar on the 17th of March 1989

Madagascar has not yet adopted a National Action Plan on United Nations Security Council Resolution 1325 (UNSCR 1325).