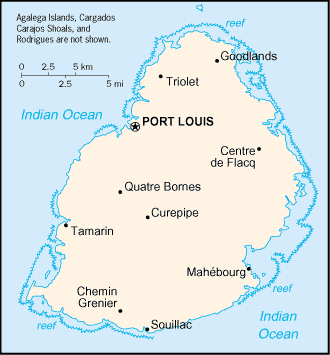 The Republic of Mauritius has an estimated population of 1.3 million (UN, 2010).  The capital is Port Louis. Mauritius has an area of 2,040 sq km (788 sq miles). The main languages are English (official), Creole, French, and Indian languages.
Mauritius became independent in 1968 from Britain. Mauritius has a long reputation for stability, despite its mixed population race of Europeans, Asians and Africans. The country has one of the best standards of living in Africa and has developed one of the most successful democracies in the world.
The government has taken measures to promote gender. Women's participation in politics is increasing rapidly. However, widespread violence against women such as sexual abuse, domestic violence remains a major problem.
 
Mauritius signed the Protocol to the African Charter on Human and Peoples' Rights on the Rights of Women in Africa (The Maputo Protocol) on the 29th of January 2005 but has not ratified it.

The Convention on the Elimination of All Forms of Discrimination against Women (CEDAW) was ratified by Mauritius on the 9th of July 1984.

Mauritius has not yet adopted a National Action Plan on United Nations Security Council Resolution 1325 (UNSCR 1325).