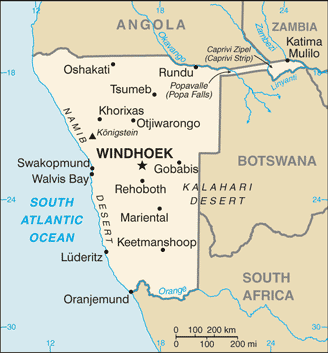 The Republic of Namibia has an estimated population estimated of 2.2 million (UN, 2010). The capital is Windhoek. Namibia has an area of 824,292 sq km (318,261 sq miles). The main languages are English (official), Afrikaans, German, Oshivambo, Herero, and Nama
Namibia has been a stable country since gaining independent in 1990 after years of battle against the rule of South Africa. It was only in 1988 with the intervention of UN, that South Africa agreed to end its protectorate.
Although the law prohibits discrimination against women, in practice, women are still discriminated against.  Men occupy most of the leadership positions in Namibia. Despite the laws protecting women from violence, violence against women is widespread in Namibia.
 
Namibia  ratified the Protocol to the African Charter on Human and Peoples' Rights on the Rights of Women in Africa (The Maputo Protocol) on the 11th of August 2004.

The Convention on the Elimination of All Forms of Discrimination against Women (CEDAW) was ratified by Namibia on the 23rd of November 1992.


Namibia has not yet adopted a National Action Plan on United Nations Security Council Resolution 1325 (UNSCR 1325).

There are no former or current UN peacekeeping mandates in Namibia.