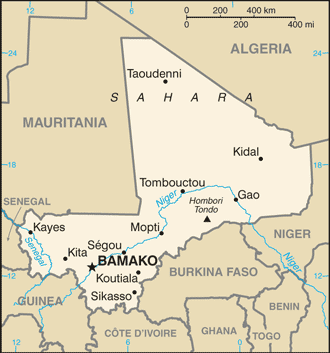 The Republic of Mali has an estimated population of 13,3million (UN, 2010). The capital is Bamako. Mali has an area of 1.25 million sq km (482,077 sq miles). The main languages are French, Bambara, Berber, and Arabic.
Mali gained independence in 1960 from France. Soon after independence, Mali was inundated by rebellions, droughts, and a military dictatorship that lasted for 23 years. However, since Mali's first democratically elected president entered office in 1992, the country has been relatively stable and has attracted foreign investments.
In August 2009, the president Amadou Toumany Toure blocked the new family law adopted by the parliament, which would have given monumental rights to women.  The law would have granted women equal rights in marriage, inheritance rights, and raised the legal age for marriage to 18, as well as various other rights.   In a statement defending his decision, President Amadou Toumany Toure stated "I have taken this decision... to ensure calm and a peaceful society, and to obtain the support and understanding of our fellow citizens". The president was not alone in blocking the law, across the country tens of thousands of people demonstrated against the law.
 
Mali ratified the Protocol to the African Charter on Human and Peoples' Rights on the Rights of Women in Africa (The Maputo Protocol) on the 13th of January 2005.


The Convention on the Elimination of All Forms of Discrimination against Women (CEDAW) was ratified by Mali on the 10th of September 1985.

Mali has not yet adopted a National Action Plan on United Nations Security Council Resolution 1325 (UNSCR 1325).  

There are no current or former UN Peacekeeping mandates in Mali.