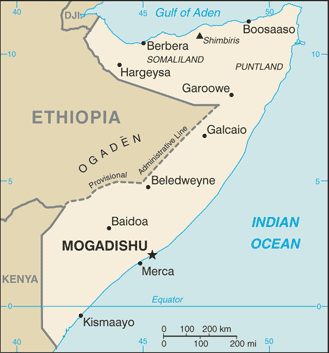 The Republic of Somalia has an estimated population of 9.3 million (UN, 2010). The capital is Mogadishu. Somalia has an area of 637,657 sq km (246,201 sq miles). The main languages are Somali, Arabic, Italian, and English
As a former British protectorate and an Italian colony, the two merged together to form the new nation of Somalia in 1969.  Since the fall of president Mohamed Siad Barre in 1991, years of fighting between rival warlords combined with famine, disease and frequent drought have led to the death of up to one million people. Somalia is considered as Africa's worst humanitarian crisis.
Violence against women such as early marriage, female genital mutilation and domestic violence are widespread in Somalia. Women are afraid to speak out against abuse for fear that their family and community at large will shun them. Women have no political voice and they don't take part in decision-making.
 
The Convention on the Elimination of All Forms of Discrimination against Women (CEDAW) was signed by Somalia on the 23rd of February 2006 but it has not ratified it.

Somalia has not yet adopted a National Action Plan on United Nations Security Council Resolution 1325 (UNSCR).