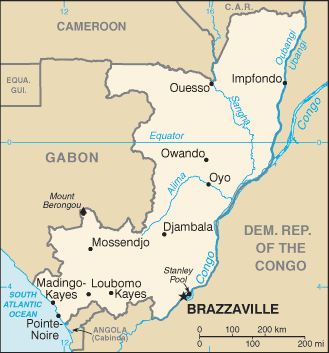 The Republic of Congo has an estimated population of 3.7 million (UN, 2010). The capital is Brazzaville. Congo has an area of 342,000 sq km (132,047 sq miles). The main languages are French, Kongo/Kituba, and Lingala.
Referred as Congo-Brazzaville, the Republic of Congo became independent in 1960. Civil war and militia have inundated the country for many years in part due to the country's offshore oil wealth. Despite the relative calm in the country, there are still many refugees, which present a humanitarian crisis.
Although the status of women has improved in Congo, there are still few women in leadership positions. Women lack access to education, heath care, and other basic amenities. Violence against women and societal discrimination against women remain widespread in the Republic of Congo.
The Republic of Congo signed the Protocol to the African Charter on Human and Peoples' Rights on the Rights of Women in Africa (The Maputo Protocol) on the 27th of February 2004 but has not ratified it.

The Convention on the Elimination of All Forms of Discrimination against Women (CEDAW) was ratified by the Republic of the Congo on the 26th of July 1982.

Congo has not yet adopted a National Action Plan on United Nations Security Council Resolution 1325 (UNSCR 1325).

There are no current or former UN peacekeeping mandates in the Republic of Congo.