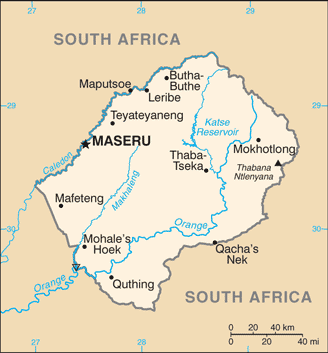 The Kingdom of Lesotho has an estimated population of 2 million (UN, 2010). The capital is Maseru. Lesotho has an area of 30,355 sq km (11,720 sq miles). The main languages are Sesotho, and English.
Lesotho achieved independence in 1966 from the UK. After several years of military rule, the constitution was restored in 1993. The election of 1998 led to internal violence and the bloody intervention of South Africa army. The country's economy relies heavily on remittances send by men who cross the border to work in South African mines.
Lesotho has one of the highest HIV/AIDS infection rates in the world. Unlike most African countries, girls in Lesotho are more invested in education than boys. Boys generally work in mines and often miss the opportunity for adequate education. Although some efforts are being made by the Government to address gender equality, women are significantly under-represented in decision-making positions, political parties, central government and leadership positions.
Lesotho ratified the Protocol to the African Charter on Human and Peoples' Rights on the Rights of Women in Africa (The Maputo Protocol) on the 26th of October 2004.

The Convention on the Elimination of All Forms of Discrimination against Women (CEDAW) was ratified by Lesotho on the 22nd of August 1995.


Lesotho has not yet adopted a National Action Plan on United Nations Security Council Resolution 1325 (UNSCR 1325).

There are no current or former UN peacekeeping mandates in Lesotho.