Dinah Musindarwezo is a gender equality advocate with nine years of experience working on issues of gender and development, women empowerment and human rights at national, regional and international levels. Currently Dinah is the Executive Director of FEMNET(African Women's Development and Communication Network) where she is in charge of management of the day today running of the organization and support advocacy work across the continent and beyond to ensure that African women are able to engage and influence policy processes affecting their lives.
Previously as a Gender Equality Specialist and head of Gender and Governance program for Norwegian People's Aid (NPA) in Rwanda, Dinah provided support to women's rights organizations to advocate for women's rights and women empowerment and hold their governments accountable to deliver their commitments toward women's rights. In this position, Dinah also supported Civil Society Organisations in general to integrate gender and other marginalized groups such as youth, people living with disabilities etc in their programmes through advocacy and capacity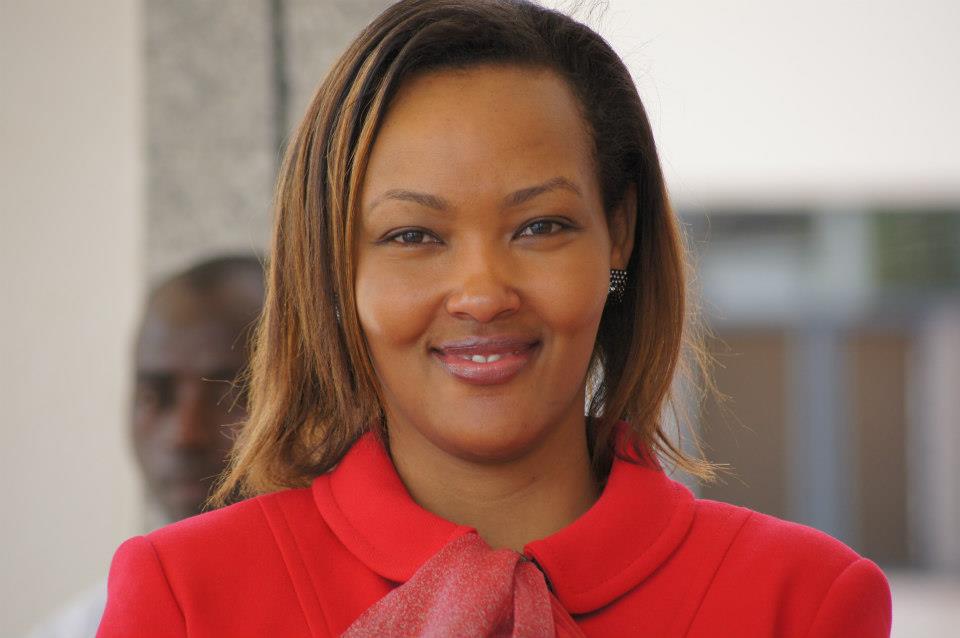 Dinah also worked with Kigali City Council where she managed a women's empowerment project called Agaseke, overseeing vision and activities while maintaining a network of public and private partnerships. She was able to support capacity building of thirty Women's cooperatives by supporting them to enhance their confidence and skills to advance in different areas including public leadership and in private sector.
Dinah is a founder and board member of Rwanda Association of University women (RAUW), an organization that is affiliated to International Federation of University women whose mission is to support girls' and women's education and support other projects that empower vulnerable women especially young women. As a Vice Chairperson, Dinah has mobilized resources to support school materials for vulnerable girls to continue their education and coordinated initiatives that empower girls who have not been fortunate to attain University Education.
Dinah is also a founder and a board member of young women's organization in Rwanda,called "Mentor A Girl" which aims at supporting young women achieve their full potential.
Dinah holds a Master's degree in Gender and Development from the Institute of Development Studies (IDS) at the University of Sussex, and a Bachelor's degree in Development Studies from Makerere University, Kampala, Uganda.


The women's movement on gender equality and empowerment has been on the upward trend in Africa in recent times, what is FEMNET's contribution to the trend?
FEMNET is a pan-African Network that was set up to advance women's rights and amplify African women's voices since inception in 1988. Over the years FEMNET has played a central role in sharing information, experiences, ideas and strategies among African women in order to strengthen women's capacity to participate effectively in the development processes on the continent. FEMNET has played a lead role in building the women's movement in Africa and has ensured that African women voices are amplified and influence decisions made at national, regional and global levels. A membership-based organization with individual and organizational members in over 36 African countries, FEMNET is African women's collective leadership for equality, peace and progress.
FEMNET uses three main approaches; communication, advocacy and capacity building in its work to advance women's rights. Communication has been key in facilitating networking and sharing critical information across borders and in mobilising African women to rally around issues of common interest. FEMNET has also played an important role in mobilising African women to engage and influence policies at country, regional and global levels through its advocacy program. For example working under SOAWR coalition, advocacy has been done for the adoption, ratification and implementation of the Maputo Protocol, as well as by facilitating the participation of African women in global spaces such as the annual CSW. Our Men to Men program also focuses on sensitizing men and creating advocates for gender equality by questioning negative masculinities and gender roles. FEMNET has played a key role in capacity building by convening an annual Regional Conference for African women in political leadership since 2009, and the beginnings of an inter-generational network. The purpose of the conferences is to ensure that women politicians are reminded to deliver on the women's rights agenda and those active in the women's movement must hold the women politicians accountable. Most importantly both women politician and women's movement must create strong partnerships and work closely to support each other to achieve women's rights and gender equality. Women from different countries use this as a platform to network, share best practices, challenges and lessons learnt while learning from each other.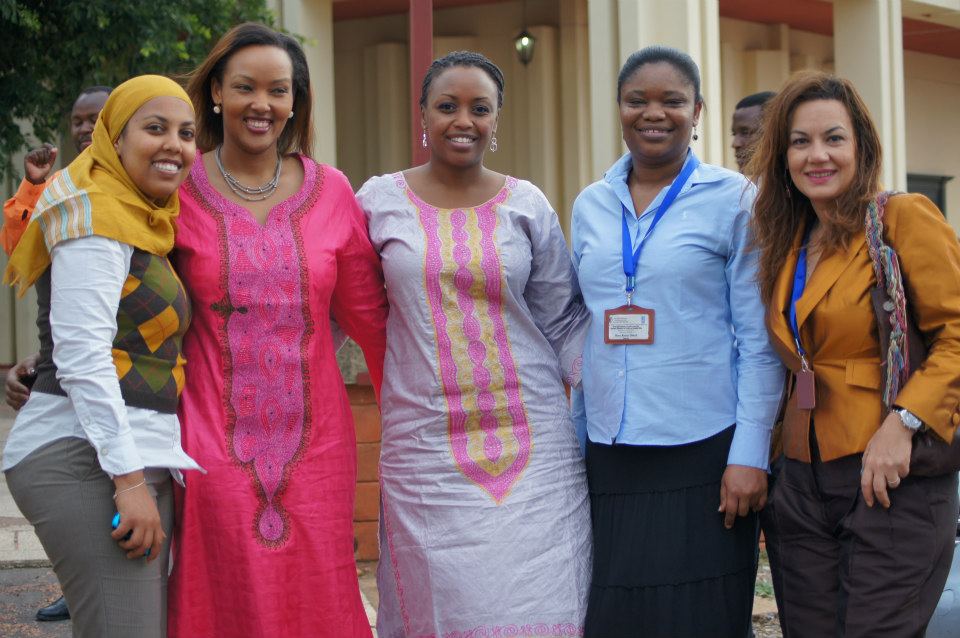 Dinah with Femnet members

In July 11, we will be celebrating the 10th Anniversary of the MaputoHow has the protocol ratification process progressed since 2003? What have been the challenges so far?
Ten years after the Protocol came into effect, we celebrate 37 ratifications. Therefore, I would say that the ratification has progressed well. There are some countries that achieving ratification has not been easily achieved, for example Cameroon had initially ratified in 2009, however due to religious opposition, the instrument was not deposited to the AUC which means this could not be counted as a ratification. FEMNET together with SOAWR had to carry out a lot of advocacy and lobbying including organising and carrying out a high level Advocacy mission to Cameroon to speak with the Government officials. The Mission was carried out in September 2012. By January 2013, Cameroon had officially ratified the protocol.
Despite the progress made, there remains a lot of work to be done – including the need to further popularize the Protocol and ensure its universal ratification. Perhaps more importantly is the need to ensure that its domestication and implementation so that it becomes an instrument that citizens across the continent can use to uphold their rights. Many member states have also registered reservations on article 14, which deals with sexual and reproductive health and rights, including the right to safe abortion in particular circumstances.
However, we have seen some progress, for example Rwanda just lifted the reservation on article 14 following the review of their Penal Code. FEMNET and SOAWR used the Maputo Protocol as a basis to carry out advocacy in Rwanda during the review of the Penal Code to ensure that women's rights particularly sexual and reproductive health and rights were respected. As a result of these and other advocacy efforts by a number of other organizations in country which also resulted in significant media coverage and public debate, some of the language used in the Penal Code was made a bit more progressive, and a few months after, the reservation on article 14 of Maputo protocol was lifted.
How has the Protocol been domesticated in African countries that have ratified it since its adoption in 2003?
As already stated above, domestication has been a major challenge. Some countries ratify the protocol but you find that their constitution or local/customary laws contradict the provisions in the Protocol – aligning the two remains a serious obstacle. On the other hand, we have an advantage in some cases, such as Kenya in which regional or international instruments that are ratified automatically become law.
As SOAWR we have been putting a lot of effort on ratification, however it has been agreed that we shift more of our efforts on domestication and implementation going forward. We are soon going to be discussing our next strategic plan, and this will be one of key issues to strategize around.
What needs to be done to ensure that the Protocol is implemented effectively so that women in Africa are able to fully realize their rights?
There are several strategies that can be used to ensure effective implementation. These include; mass popularization of the Protocol, mobilizing women's rights organisations to hold their governments to account for what they have committed to, lobbying governments to domesticate the protocol and working with the AUC to monitor the implementation of the protocol. In addition, since we have seen that religious leaders are major opposition to the protocol, it is important to work with them, sensitize them about the protocol and its importance in promoting women's rights. Very often the protocol is misunderstood, you find people saying that the ratifying, signing the protocol means signing to legalising and promoting abortion and homosexuality, resulting in a lot of resistance by anti-choice campaigners without a clear understanding of the provisions laid out in the protocol. It is therefore important to present the Protocol in a simple manner that is easily understood by the majority of African citizens in order to popularize the protocol further. As FEMNET and SOAWR we have been using some of the abovementioned strategies, however much more needs to be done, and we need as much help as we can get.
There are two particularly contentious factors driving opposition to the Protocol: its article on reproductive health, which is opposed by Catholics and other Christians, and its articles on female genital mutilation, polygamous marriage and other traditional practices, which are opposed mainly by Muslims. Can you speak to this and talk about any strategies underway to have countries ratify the protocol?
These issues are linked to cultural, traditional and religious attitudes – which we often think of as stagnant—however it is important to understand that culture and tradition are not static, and the same can be said for interpretation of religion, it is created by society and thus can be changed by society. Unfortunately this is not an easy task. However, there are cultural and religious leaders who are progressive, and do see the upholding of women's rights as part and parcel of the role that culture and religion must play. It is important to use such champions to sway their peers and their congregations and spheres of influence.
FEMNET together with SOAWR is working on this, for example, a mapping was carried out recently to assess the specific reasons for non-ratification of the Protocol in each country that has not yet done so, and what can be done to improve this. We have also developed a project proposal to sensitise religious and traditional leaders on the protocol and the importance of its implementation. We hope that once we are able to carry out these sensitizations, it may contribute to create awareness and eventually change attitudes leading to less opposition of the protocol by these groups.
What are the most pressing issues for women in Africa? And what are the primary actions to take in response to those issues?
In my opinion, I believe that the some of the most pressing issues affecting women in Africa is violence against women in all its forms and discrimination of women in owning and control of resources, especially land. It is mainly because of gender discrimination that women experience many other issues such as lack of sexual and reproductive rights, that majority of women are poorer, majority of women work in informal sector with no protection and benefits and few women are in decision making positions in all sectors including the public and private sectors.
There is need to work towards changing gender/power relations through changing economic, social and political policy frameworks that perpetuate gender discrimination. This must be followed by change of attitudes by both men and women towards men and women and their gender roles.
We have all been working towards the above but I feel that little has been done to change gender /power relations. We work towards getting more women participating in the political arena, more women in formal employment, in education and we have achieved major milestones in those areas, but if you ask who does the work that used to be done women as prescribed by society, it is still women! What we have done is increase women's burden in the name of empowerment. What we need to start doing as women's rights advocates is to change gender relations and roles. We must critically think and analyse the unpaid care and domestic work in the whole economic framework.
Do you feel the African Women's Decade is effectively being promoted and utilized by governments and organizations as an empowerment tool? What is your organization doing to make sure this decade offers a boost to women's rights in Africa?
Not really, more efforts are needed to make the Women's Decade a reality. There are no resources allocated to implement it and political will is largely lacking. To date the secretariat to coordinate the Decade has not been established as promised during the Decade's launch. FEMNET has been trying to follow with the Government of Kenya which was mandated to host the Secretariat and we have always been told that there are no resources to do so. More support is needed from the AUC as well to ensure that the Decade doesn't pass us by without making significant impact.
FEMNET pioneered the African Women's Journal in 2010 to commemorate the African Women's Decade and use it as a platform to discuss and deliberate on the themes, as well as to amplify African women's voices on issues that matter most to them.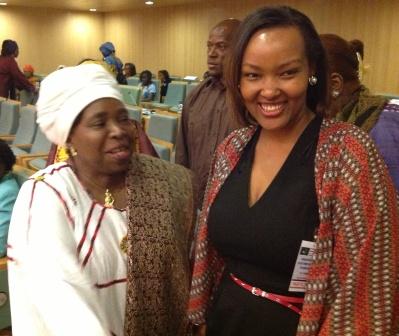 Dinah with he African Union Commission chairperson Dr Nkosazana Dlamini-Zuma

How do you feel social media is being utilized as an empowerment tool for women in Africa?Do you feel this is an important capacity building avenue for grassroots women's organizations? What do you envision as the potential of this?
I think that social media has created many new possibilities – politicians can now have direct access to their constituents and to the public in ways that they never could. They are now making their own announcements and clarifying information about them – using it as their own medium to get their messages across. Social media and technology as a whole has decreased the costs drastically of communication to the masses in a very short amount of time. It allows for connections across borders, time, age and space.
As any other medium, we must not see social media as a panacea for all of our problems. We must not forget that not everyone has access to such technology, or the know-how to use it. It is a powerful tool whose outcomes depend on how they are used.
Other forms of technology, including mobile telephony is useful for farmers and cross-border traders, for example to connect their markets and keep them updated on market prices and other information that they need to facilitate their businesses and livelihoods. There's a lot of potential – for increased accountability and governance, increased solidarity and unity, and improved livelihoods that must be tapped into.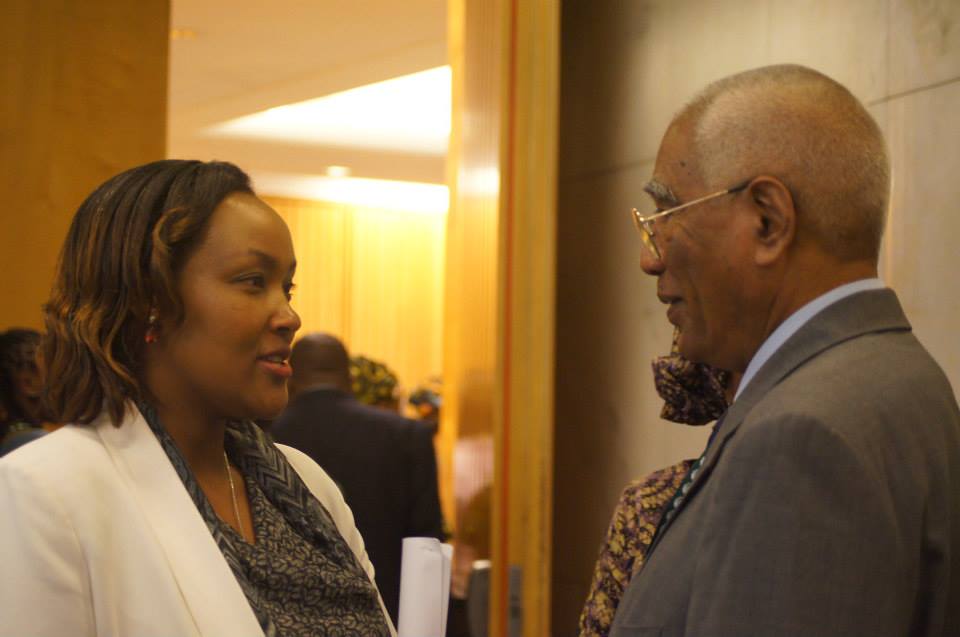 Dinah Lobbying the Former President of Mauritius
You can connect with Dinah at This email address is being protected from spambots. You need JavaScript enabled to view it. or @DinahRwiza.

Connect with FEMNET on:
Twitter @femnetprog
Facebook: FEMNET Secretariat |
YouTube: FEMNET1