Chika Oduah is an independent journalist and photographer based in Abuja, Nigeria. She freelances for Al Jazeera, Associated Press and other news outlets. Chika has reported from Africa, the United States and Central America. A blogger for the Huffington Post's world news edition in collaboration with the Berggruen Institute on Governance, her reportage has been published by the New York Times, National Geographic, The Atlantic, CNN, NBC, MSNBC, The Guardian, and Religion News Service, among others.
Chika is a frequent commentator on African current affairs with appearances on the UK Channel 4 News, BBC World Service, PBS News Hour, National Public Radio, World Report and other radio and television outlets.
She is the recipient of the 2014 Trust Women Journalist Award from the Thomson Reuters Foundation for pursuing stories that bring awareness to women's rights issues. A 2014 Global Post/ Ground Truth reporting fellow on youth unemployment and 2013 International Reporting Project Fellow on food security in Tanzania, Chika is a 2014 grantee of the African Story Challenge, a reporting project of the African Media Initiative in partnership with the International Center for Journalists. An anthropologist at heart, Chika aims to tell human stories exploring culture, spirituality, age, gender and governance in Africa and African diaspora communities. Chika holds degrees in anthropology and broadcast journalism from the Medill School of Journalism.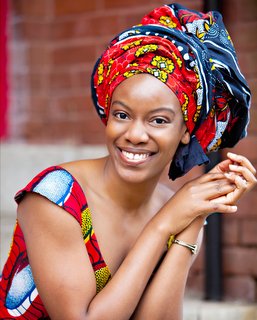 Chika Oduah
She spoke to MEWC about her experience working in Nigeria in the field of Journalism, her 'Afrocentric blog' and opinions on women's empoerment!
How has your experience been growing up as a first generation Nigerian living in the United States? Do you think your distinctive upbringing forged a specific world perspective, especially when it comes to Women in Africa?
I was born in South Eastern Nigeria, I left when I was about two years old to the U.S. where I was raised and spent almost all of my formative years, including elementary school, high school and University. I would say I benefitted from the American experience, in regards to access to decent public education and healthcare.
However, growing up in America I always felt like an oddity, I felt like I did not always belong and I was out of place. I wanted a deeper connection with the world. Perhaps it was the specific city I was living in (Atlanta, Georgia) or perhaps it was my general surroundings, but I was seeking a connection to the world at large. I was always looking for a deeper dialogue, especially when it came to Africa. Not just Nigeria, but the entire continent. I was really involved with communities in Atlanta and even when I moved to Chicago, New York and Washington D.C. I was constantly seeking a different perspective on Africa than what I was getting from mainstream American media outlets. For example, I had an issue with watching documentaries as they portrayed Africa because many of them would pay more mind to the animals not the people or cultures. Don't get me wrong; Africa's wildlife is fascinating. The African elephant is my favourite animal, but don't the people matter also? Also, media outlets widely portrayed Africa in skewed ways through a narrow lens. So, keeping that in mind and searching for something in depth, in December of 2012 I decided to move to Nigeria.
(Check out Oduah's piece "Becoming Nigerian" to get an in-depth sense on her experience moving to Nigeria)


You have recently been awarded the Trust Women Journalist Award by the Thomson Reuters Foundation. Congratulations! What did that award mean to you, and what do you think it signals for African Female Journalism?
I was incredibly surprised when they said I had won because I was up against extremely well respected nominees in the field. I was also the youngest, so I assumed it would be a long shot to win the award. I had actually forgotten about it. So to actually win was an incredible achievement. To me, it signalled massive approval from colleagues that even though I am still relatively young in my career, my reporting is appreciated. I do believe I represent some of the younger demographics/generations, and I am happy to be doing so. I am twenty-nine years old and have been doing this since I was seventeen. It's great to know that you do not need to always feel the weight of seniority or hierarchy and that if you do good work and do your best you will be recognized for your efforts. My reporting on the kidnapping of the 276 schoolgirls from the village of Chibok in north-eastern Nigeria was also well-received by the judges.
UN Women has been bringing attention to the experience and representation of Women in the Media recently. What has been your experience working as a journalist and photographer as an African female?
For the most part, being a female in Africa for me has been advantageous. In places like the North Eastern region in Nigeria, a generally conservative Muslim society, it seems as if women are not really expected to do investigative work. For example, if I am trying to report on a story, they often allow me to have access to the sites because they assume I am not doing anything "serious." That access works in my favour. I try to take those small things and work them to my advantage instead of falling back on the narrative of oppression. I am aware of the cultural traditions, but I try to think positive and use my professionalism to get me places.
The world watched as Boko Haram abducted hundreds of schoolgirls in 2014, however you took action. What was your experience on the ground, in Chibok, Nigeria, when you went to cover the events?
I was not originally planning on going to Chibok. But one day, the inspiration just came to me after such a long period of time passing with no one visiting the village. I decided to go on the ground by myself, without the affiliation with a media outlet so to not distract the events. The experience was quite a journey. Luckily, a Chibok native that had grown up in Abuja accompanied me. He was surprised to see that everyone was still there and well, after he encouraged people to go and visit.
When I first arrived there, to my surprise, I received something of a fanfare as a result of my arrival. They said no journalists have come to Chibok and were really impressed that I spent the night in there. Since first visiting, I have returned to Chibok to cover their take on the Presidential elections over March 28th 2015 in Nigeria. When I arrived the second time I was warmly welcomed. I strive to build relationships with people and I try to avoid in-and-out reporting. I think telling a story is the most important feature in this line of work.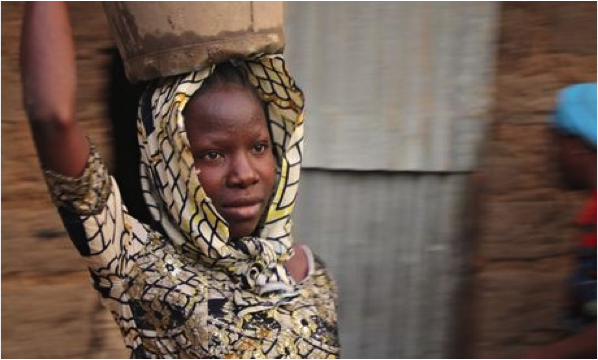 Lydia Pogu escaped Boko Haram abductors by jumping out of a truck.
She said she does not want to go back to school but wants to be a farmer.
Photograph: Chika Oduah Chika Oduah/Chika Oduah
You have been recorded saying it was important "to put a human face to the victims to get international attention" for the Boko Haram victims. What did that look like to you? How did your background in photography play into this?
I used text and photojournalism in my projects to illustrate a storyline. I try to tell the history of the people I talk to. One person who stood out to me was the oldest man in the village. He said he was 105 years old and the villages concurred. By highlighting him and other people who live in the village I was attempting to tell the history of Chibok and its people. In this story, because of Chibok's historic relationship with Christianity there were a lot of mentions of praying for the girls, and I wanted to do that storyline justice. With the elder man, I wanted to illustrate what he has seen across the country throughout the decades. I studied Anthropology in school and I think that plays into my Journalism a lot. I was trying to put a face to the story.
The Chibok girls who ran away within days and weeks of being abducted were said to have faced stigma and trauma after they escaped because of negative stereotyping. How do you suggest combatting this kind of behaviour within society against victims of abuse and sexual harassment?
This is really about cultural change. A way to promote cultural change comes through laws and progressive legislation. This can be done through institutions that will help to better care for the girls who come out of Boko Haram captivity. We also need schools that can be used as safe havens for girls' safety. Its truly a long-term social paradigm shift where social workers, schools and of course community leaders need to be all fully engaged for change.
The mind-sets need to be changed. People think girls are being bred for marriage. So if the girls are victims of sexual abuse, they are being seen as unfit for marriage. It's a long process but this needs to be changed and supported by a legal framework in place to combat these behaviours, which do some much to limit a girl's potentials and life ambitions.
Your noble work has raised awareness on women's rights. What would you consider as some of the major issues facing women in West Africa now?
I always think that the biggest issue is the lack of access to education.
Once a woman has adequate access to education, she can make better choices for herself. She can decide, if and when she wants to get married, how she wants to earn income, etc. Education has a transformative power to open up girls' worlds and minds.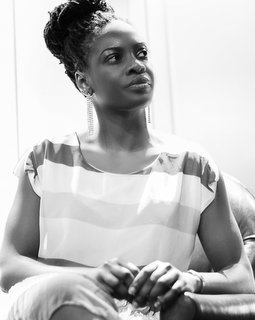 Chika Oduah
Your fantastic blog Afrocentric Confessions covers such a wide range of topics, but you seem to maintain a unique African and gendered perspective. Why do you think blogging is a useful medium to express your work and opinions?
I see myself as a creative person. I am always trying to continue to write, but I also pay close attention to community building. I think that with this blog, I can meet people who are interested in the same topics as I am and we can learn from each other and share experiences. I live to create and my blog is my canvas.
Culture, art, music and all creative industries play largely into your blog. What do you think needs to be changed in terms of culture in West Africa to liberate social spheres for progressive change in favour of empowering women and girls, and how would you do it?
As far as culture goes, so many things come into play. One is underage marriage. I have patience and understanding for cultural relativism but I do not see the benefit of having an 11-year-old wife. I can be as open minded as possible, but does it make sense for a physically-immature female to carry a child in her womb for nine months and try to give birth? One of our Nigerian lawmakers has three wives, for example, and once of them was reportedly 13 years old when they married. The senator denies this claim. What we see happening nowadays is that the young girls are so unhappy they are taking their lives or the lives of their husbands. In Nigeria, some government officials and community leaders still believe it is their right to marry young girls as condoned or encouraged by religion or culture. It's hard to confront these practices when lawmakers and influential people are supportive, but we still need to collaborate over change as men and women on this issue.
A lot of these cultural changes need to have men on board and for men to listen more intently. This also needs to be supported with education and wider education access for women and young girls.

Finally, in your expert opinion, what would you suggest the world pay attention to in Nigeria's women's creative scene?
What comes to mind is the Fashion scene in Nigeria. Fashion Designers in Africa are incredible and are really trying to polish their game to make it big in the global scene. Here in Nigeria, having your clothes custom-made is the norm and can sometimes be more affordable than buying the ready-made stuff at the stores. The blend of Western cuts and shapes with African cloth is really unique. You can see Beyoncé, Rihanna, Gwen Stefani and more American artists getting into the African Fashion trends so it's great to see the world appreciating the fashion that Africa has to offer. One of My favourite designers at the moment is Lisa Folawiyo…
You can find Chika Oduah here:
http://chikaoduahblog.com / @chikaoduah