Source:
Mail & Guardian Africa
The exclusion of Africa's women from its boardrooms starts right from school, and reversing this would require radically changing society, the World Economic Forum on Africa heard Thursday.
Africa comes after the US and Europe in the representation of women at senior decision making levels, and first in the emerging regions, but at 13%, it was still unacceptably low, a panel on increasing economic equality said.
"There has been progress in political empowerment, but economically not so," Graça Machel, an international advocate for women and children's rights said.
Making significant advances on this would require understanding the problem from the complete dimension of a woman's life span, she said, and targeting these stages.
Beginning of a journey
"We'll continue to talk about it for generations, because we are talking about fundamentally changing society," Machel, former South African first lady said. "We are only at the beginning of a journey."
"We can start by looking at the educational differences right from primary school that contribute to this," Bob Collymore, the chief executive officer of Kenyan telecoms giant Safaricom, said.
"You have to build the capacity from the ground-up and not give top-down solutions," Collymore, who said his firm employs 50% women, and just slightly under this figure at senior level, said.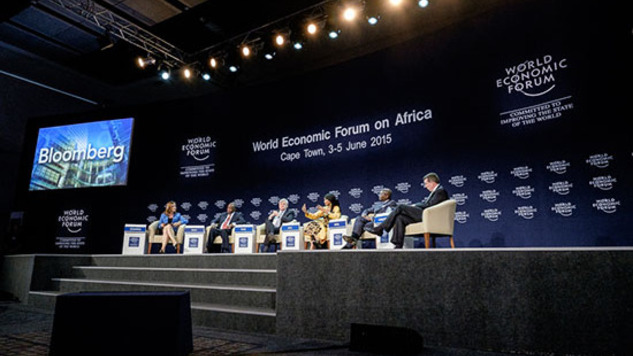 A session at the World Economic Forum on Africa, Cape Town, that ends Friday. (Photo/Johann Barnard).
Rwandan finance minister Claver Gatete said it was not enough to just increase numbers, increasing quality and entrenching it in law was also fundamental.
Rwanda has the highest representation of women in parliament globally, according to the Inter Parliamentary Union (IPU), and has also made huge strides in increasing opportunities for its women.
A recent report by the African Development Bank (AfDB) found that while the situation was improving, progress was still patchy in Africa, despite the proven link between increased profitability and the presence of women in high-level positions.
The report said the barriers were well known: a mix of cultural factors, ingrained mind-sets, and stubborn forms of behavior, including a tendency to tap a much narrower band of women leaders than is possible given the available talent pool.
Half-full glass
"We agree the report was not flattering but it is not for lack of trying," Phumzile Mlambo-Ngcuka, the executive director of UN Women, said. "But the glass should be looked at as half-full. There is progress, but not enough, we need partnerships. It can't be women alone."
The report found that the African percentage of women directors actually surpassed the percentages in other regions of the world, but to build on this deliberate decisions needed to be made, as Kenya and South Africa had done.
Women hold 12.7% of board directorships (364 out of 2,865) in 307 listed companies based in 12 African countries, which is 4.6% lower than the 17.3% women's representation on the boards of the 200 largest companies globally, the AfDB found.
Kenya has the highest percentage of women board directors with 19.8%. South Africa, Botswana, Zambia, follow with above average percentages of 17.4%, 16.9%, 15.9%, and 15.7%, respectively.
Cote d'Ivoire has the lowest percentage (5.1%). However overall the majority of African companies have minimal presence of women on their boards.