Source: The Guardian 
In recent weeks global leaders have increasingly spoken up about the terror that dominates life – and death – in the Central African Republic(CAR). Commitments to provide humanitarian assistance to trapped civilians are at last trickling into the beleaguered country from the UN, the EU, and the UK.
Mark Townsend has described the misery and suffering of the women of CAR, who are routinely subjected to rape, abduction, torture, mutilation and other war crimes, including murder. Tragically, these offences continue with impunity, leaving victims devastated and without food, shelter or medical care.
CAR is experiencing a crisis the international community has, at best, largely ignored and, at worst, exacerbated by pouring arms into the country. Since 2005, the UK has been the fourth-largest EU exporter of weapons to the country.
In his May 2013 report to the security council, the UN secretary-general, Ban Ki-moon, noted the conflict's devastating impact on women and girls, highlighting continuous reports of sexual violence including rape, gang rape and sexual slavery.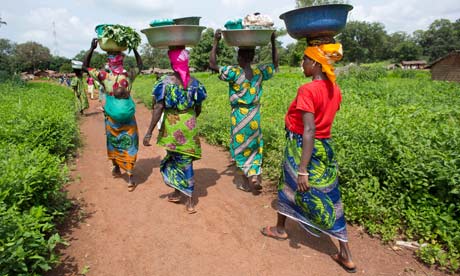 Mass sexual violence is not new to CAR. After failed coup attempts in 2001, widespread sexual violence was documented in the country from 2001 to 2003. Some of those crimes are being prosecuted by the international criminal court. The ICC prosecutor noted that "[t]his is the first time the prosecutor is opening an investigation in which allegations of sexual crimes far outnumber alleged killings".
In June 2006, attempting to address a major issue, CAR's national assembly amended its draconian abortion law to permit abortions in cases of rape. An expert on sexual violence, Dr André Tabo, who testified at the ICC, said the amendment of this law was in direct response to the country's experience with rape. He noted that while this would not help the women who had become pregnant from rape in previous conflict, it could aid women in the future.
Unfortunately, the legislation is not enough to help these women because the US, a major donor of humanitarian aid to CAR, has a policy that dictates funds allocated for women raped in conflict carry a prohibition on the provision of abortion services. This means organisations that receive funding from the US in CAR cannot use their US funds to provide abortion services. And if these organisations do not segregate US funds from those of other donors, such as the UK, the US restrictions apply to those funds as well.
The direct consequence of the abortion ban attached to US humanitarian aid is that girls and women impregnated by rape continue to be denied terminations in donor-funded hospitals, even though such procedures are permissible under CAR law.
I am pleased the UK responded to campaigners in early 2013 by recognising that women raped during war have a right to abortion under the Geneva conventions. The UK also took leadership at the security council in June in securing agreement to a resolution that requires donor countries to provide girls and women raped in armed conflicts with non-discriminatory and comprehensive health services, including reproductive health services.
Now there must be a concerted effort to put policies into practice, starting with the £5m in humanitarian aid to CAR announced by UK development minister Lynne Featherstone on 30 July and destined for the International Committee of the Red Cross, other INGOs and UN entities. Where these entities are also funded by the US, their funds are covered by the US abortion ban. The question is how the UK can ensure its funds include a clear commitment to safe abortion services.
In announcing Britain's aid pledge, Featherstone promised: "Britain will not look the other way while millions of the world's vulnerable people are suffering. This support will provide a lifeline to the people of CAR, helping them to rebuild after months of violence." Our efforts should support CAR to uphold its 2006 law.
Reports of the humanitarian situation in CAR show that access to medical care is limited. Women do not have the option of finding assistance elsewhere if they come upon a US-funded facility or an organisation that refuses to perform abortion services. If they are lucky enough to find a centre that can provide care, it must be provided to the fullest extent possible.
This is why the UK must take steps to ensure that organisations receiving humanitarian aid for CAR separate their funds from those provided by the US, so that the money can, as intended, be used to provide safe abortions for women made pregnant by rape in war. The lives of countless girls and women depend on that.