Source: Fox News 
BANGUI, Central African Republic (AFP) –  The Central African Republic has been sliding into chaos since rebels took over in March, with reports of executions, looting and epidemics prompting the United Nations to review its options Wednesday.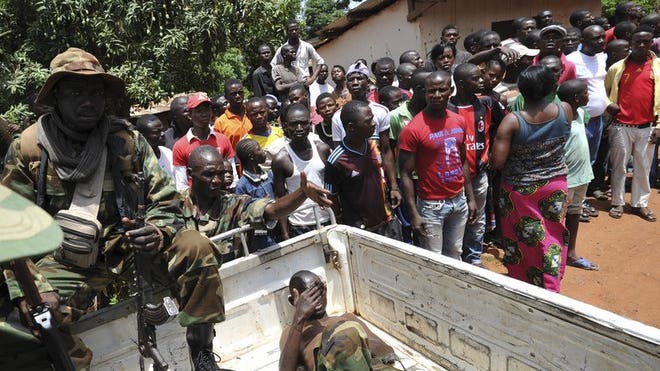 After ousting Francois Bozize from power, the international community granted the Seleka rebel alliance de facto recognition and a shot at steering the nation through a transition period leading to fresh polls.
Five months on however, the picture was bleak, with reports of widespread rape, child soldier recruitment and weapons proliferation prompting UN chief Ban Ki-moon to say the country needed the world's "urgent attention".
The Central African Republic's new strongman, ex-rebel boss Michel Djotodia, vowed to combat insecurity in an address marking the nation's 53rd anniversary of independence from France on Tuesday.
But a UN report said that Djotodia's Seleka fighters, many of whom have not been paid in months, were to blame for much of the chaos and that the group's hierarchy is doing little to stop them.
It listed "arbitrary arrests and detention, sexual violence against women and children, torture, rape, targeted killings, recruitment of child soldiers and attacks, committed by uncontrolled Seleka elements and unidentified armed groups throughout the country."
The UN Security Council, the world body's top decision-making organ, was due Wednesday to discuss the report, which recommends sanctions against the Seleka, a rag-tag alliance of gunmen led by Central African, Chadian and Sudanese warlords.
"I call on the Security Council to consider appropriate options, including the adoption of sanctions or the establishment of a panel of experts," Ban said.
Rights groups and observers say the new administration -- a broad unity government -- wields no influence whatsoever outside Bangui, leaving the rest of the country prey to marauding Seleka forces.
The International Federation for Human Rights said in July it had documented at least 400 murders by Seleka-affiliated groups since March. Bar a few arrests in Bangui, all those killings have gone unpunished.
The landlocked nation has 4.6 million inhabitants scattered over a territory larger than France, replete with untapped mineral wealth and bordering other chronically unstable countries such as DR Congo, Chad and South Sudan.
The relentless violence since the March coup has forced tens of thousands from their homes, with the UN refugee agency reporting on Tuesday that 4,000 has crossed into Chad over the past month alone.
The UNHCR said more than 60,000 Central Africans had fled their country and 200,000 been internally displaced since the crisis erupted in December 2012.
With thousands of families still living in the bush, afraid to return to their homes, Save the Children warned that children faced "the threat of sexual abuse, disease and recruitment into armed groups."
The Central African health minister warned Tuesday the entire territory was affected by a measles outbreak.
At least 1.5 million children have not had access to vaccination and charities have warned that a public health catastrophe was developing and not receiving sufficient global attention.
"We're heading towards a massive humanitarian crisis," one foreign aid worker told AFP in Bangui. "We already have Mali and Syria... so there's not much left for Central Africa."
As his country descends into lawlessness, the ousted Bozize -- who came to power in a coup 10 years ago -- resurfaced in France and said last week he was ready to take power again "if the opportunity presents itself."
Read more: http://www.foxnews.com/world/2013/08/14/central-africa-deepening-crisis-under-un-scrutiny/#ixzz2c1zRQRwo