Source: UN News Center
Ten years after the Security Council called for greater involvement of women in peacebuilding, United Nations peacekeeping missions have a mixed record and need to deploy greater efforts to reach the goal, according to a study launched today.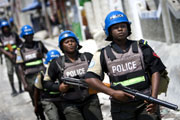 "The impact study is a call to action to the senior leadership of peacekeeping to accelerate implementation of resolution 1325," UN Under-Secretary-General for Peacekeeping Operations Alain Le Roy said, referring to the Council's resolution of October 2000, which sought to end sexual violence against women and girls in armed conflict and encourage greater participation by them in peacebuilding initiatives.

The study, carried out by the Department of Peacekeeping Operations (DPKO) and the Department of Field Support (DFS), calls on UN peacekeeping missions to work with local women, national authorities and Member States to increase the limited participation of women in peace negotiations, national security institutions and governance in post-conflict situations today.

Despite some cases of enhanced political representation, women's ability to contribute effectively to governing their societies often remains hampered by persistent discrimination, it reported. Early and better-coordinated planning by peacekeeping missions, across the UN system and with national partners, is required to ensure lasting and meaningful changes for women in post-conflict situations, it added.

"I will continue to prioritize this agenda and provide the necessary leadership to ensure that the entire peacekeeping family is effectively mobilized to support the building of more just and equal post-conflict societies," Mr. Le Roy said in launching the Ten-year Impact Study on Implementation of UN Security Council Resolution 1325 (2000) on Women, Peace and Security in Peacekeeping.

Peacekeeping has played a crucial role in significant progress made in women's participation in politics as voters, candidates and elected officials, with the most marked advances in countries where quotas are in place, such as Timor-Leste and Burundi, it reported.

Peacekeeping missions have also influenced legal and judicial reforms by supporting the adoption of gender equality laws in several countries, including the Democratic Republic of Congo (DRC) and Sierra Leone. Deployments of patrols in high-risk areas in the Darfur region of Sudan and the DRC have also enhanced protection of women.

But peacekeeping has not succeeded in significantly improving women's participation in peace negotiations, the study found, underscoring the need for a strategy ensuring engagement with diverse groups of women. Peacekeeping missions should also intensify advocacy to increase the representation of women in national security institutions, safeguard their equal rights, and expand opportunities for their professional advancement, it added.

The study also called for a more robust response to fight against conflict-related sexual violence, which remains highly prevalent in peacekeeping mission areas; more resources for protecting women who are refugees or internally displaced, with the support of international partners; and holding senior peacekeeping management to a higher level of accountability for compliance with resolution 1325.

Key advances include an exponential increase in women serving as civilian staff in UN peacekeeping missions from only 20 in the 32 years between 1957 and 1989 to 30 per cent of the current 19,800 civilian staffers. Eight Special Representatives of the Secretary-General (SRSGs) and Deputy SRSGs in peace operations are women, while women currently make up nine per cent of the 12,000 deployed police officers, up from six per cent in 2005.

There are now three all-female UN police units deployed – Indian in Liberia, Bangladeshi in Haiti, and Samoan in Timor-Leste – and the current UN Police Adviser, who advises the DPKO on police-related matters, is a woman, Ann-Marie Orler of Sweden.

The UN has launched a plan to recruit more female police officers into national police services and into UN police operations around the world, with a goal of reaching 20 per cent by 2014.