Source:International Business Times
As the number of Ebola cases continues to shrink in West Africa, the affected countries are starting to get their already struggling economies back on track. The largest-ever Ebola outbreak, which killed more than 10,000 people in the region, had a major effect on those economies.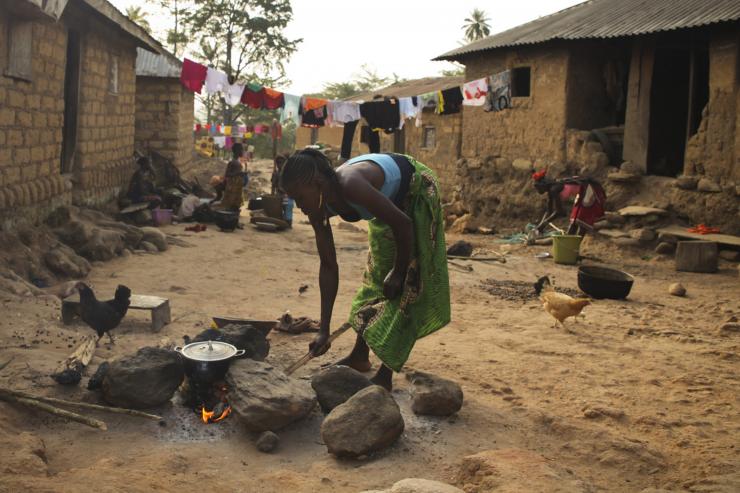 A woman cooks in Meliandou, Guinea, on Feb. 4, 2015. A charred kapok tree and around a dozen graves scattered among the mud brick houses of Meliandou are painful reminders of the toll Ebola has taken on the village.  Reuter/Misha Hussain
But even as recovery begins in rural farming areas, women and youth especially struggle to find work. Amid a looming food crisis, economists are keeping a sharp eye on the numbers as time passes.
"Even as these countries implement their respective economic recovery plans, the long-term economic and social impacts of such a prolonged and devastating outbreak will undoubtedly put many families and communities at risk," said Makhtar Diop, head of Africa research at the World Bank, in a Wednesday statement. "We and our partners must continue to respond quickly and effectively to support those who need it most."
The World Bank used a mobile phone survey to gather its statistics, in partnership with local government agencies. Numbers from Guinea -- where the Ebola outbreak originated -- were not reported Wednesday.
Sierra Leone and Liberia were poor countries even before the Ebola crisis, with many citizens already accustomed to some level of food insecurity. Right now, both countries are in the post-harvest season, when most households have substantial foodstocks -- but it may not last.
"Sierra Leone is a much more rural and agrarian society than Liberia," Kristen Himelein, the report's lead author, told International Business Times. The World Bank's baseline surveys showed that only 56 percent of working-age adults in Sierra Leone said their main source of income was in agriculture while the figure for Liberians was just 13 percent.
Despite overall improvements in Liberia and Sierra Leone's employment numbers, urban populations continue to struggle in finding work. 
"There are also more severe price increases in Liberia compared to Sierra Leone, disproportionately affecting the larger percentage of Liberians living in urban areas," Himelein said. In Sierra Leone, youth employment in cities such as Freetown has continuously declined, and the percentage of nonfarm enterprises interrupting operations has increased four times. 
But youth aren't the only ones who are still stuck. 

"Women continue to experience the worst job losses," the World Bank report reads, noting that they are more likely to be self-employed and working in nonfarm jobs such as markets or trading, which continue to be affected by repercussions from the outbreak, such as interruptions in informal trade routes and routine border closures. 
The report comes just as U.S. President Barack Obama met with representatives from Liberia, Sierra Leone and Guinea in Washington, D.C. While he noted that "major progress" had been made, he pledged his continued support.