Betty Makoni (BA Gen, BA Special Hons) is CNN Hero 2009 for Protecting the Powerless, where she was honoured by Nicole Kidman. She has 28 global awards for innovation, commitment and passion for her work to protect over 300,000 girls in Zimbabwe. United Nations Red Ribbon award honoured Betty Makoni and Girl Child Network as having the most innovative strategy for gender equality. Betty Makoni is an Ashoka Fellow and singled out as one of the investors in poor and marginalised women and girls deserving of this life honour as a fellow.News Week named Betty as one of the 150 women who shake the world, alongside US Secretary of State Hillary Clinton.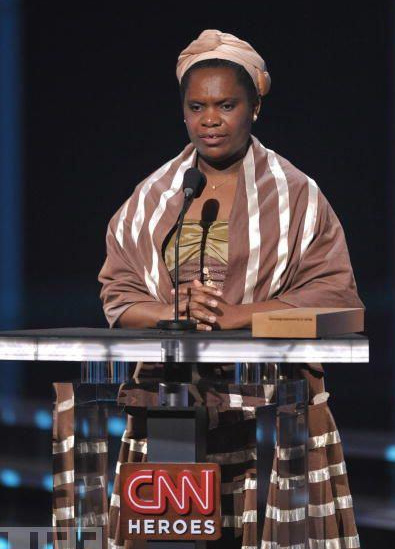 An Honorary Decade Child Rights Hero award (2011) that Betty Makoni received alongside President Nelson Mandela, who won the award, also shows the impact Betty Makoni has made globally.

Betty Makoni has inspired millions around the world to replicate the Girl Child Empowerment Model that she developed. Besides her work with Girl Child Network Worldwide and building many Girl Child Networks in Africa and throughout the world, Betty Makoni is a mentor, coach, and trainer for women and girls who want to do similar work.

Betty has a lifetime of volunteerism and service to many causes and has served on Oxfam Novib and UNAIDS Round Tables. She sits on many boards of high profile organisations like RESTORED UK and serves as Ambassador and Patron of Africa Achievers Award and Zimbabwe Achievers Awards. Betty Makoni is the first woman to serve as Global Ambassador for UN 19 days of Activism for prevention of Child Abuse by Women World Summit an organisation with UN consultative status.
Betty Makoni is a published author of a poetry book, A woman, Once a Girl: Breaking Silence, which was recently launched in London. Her Autobiography Never Again, not on any woman or girl http://bettymakoni.authorsxpress.com/ is inspiring women round the globe. Betty Makoni is a hostess of a women and girls empowerment program on ZimPowerFM (www.zimpowerfm) every Sunday.

Betty is featured in best-selling books including Women Who Light the Dark by Paola Gianturco, On The Up by Nikki and Rob Wilson, as well as main subject in the award winning documentary, Tapestries of Hope, by U.S. Independent Presidential Hopeful for 2012, Michealene Risley. The Girl Child Network Empowerment Model which she started in 1998 has been singled out as Best Practice and included in University of Essex Journal for Human Rights 2010.
I just want to send warm greetings to you, Rainatou Sow, I'm so honoured to be interviewed by your organization, firstly just to say that you are doing a great job. Make Every Woman Count is a young women-led organization that is committed to actively promoting and advocating for the empowerment of African women. I am so impressed with the work and that's why I want to take part and try as much as possible, and as detailed as I can, to respond to the questions that you have sent to me.
Q: What drove you to start the Girl Child Network Worldwide?
The first organisation I formed was Girl Child Network in Zimbabwe way back in 1998. Girl Child Network Worldwide was formed in 2007 after women and girls from many parts of the world asked to replicate the model. I will explain that a little bit late.
I am girl who grew up as a vendor because of a poor background. I had to work for every penny that brought food on the table or that kept me in the school. I was sexually abused and lost my mother at age nine to domestic violence. So all those tragedies left me with anger, and I told myself that one day I would do something about the situation of girls. And even as I became a labourer at my school having to work for my school fees from age 14 and parent myself I told myself one day children have to be looked after until such an age they could fend for themselves. It was not wrong at all to work for my school fees or to be a child vendor or housemaid or even a mother to my siblings but it put me in a situation where I had to be an adult instead of a child and even to day I feel that there is an important phase I jumped in life. Each time I was doing anything an adult was supposed to be I always talked to myself that if one day I'm to become someone I want girls to get school fees accessible to them without being deprived of being children and having to suffer the way I did. I always had the determination to do something so that girls break silence on rape and other violations they went through in the home, school and community. I knew my case of rape had been swept under the carpet and that one day I would speak about it and evoke other girls to do so.
In 1996 when I graduated from University and became a teacher at Zengeza 1 High School in Chitungwiza which is in a poor high density suburb where I grew up, I saw girls dropping out of school one-by-one. We are so accustomed to those sophisticated ways to do expensive surveys and researches but mine was just a simple count of girls I had beginning of year and those who remained in class to reach the finishing line of their education. What dawned on me was that in a class of say 25 girls you would end up with 10 girls coming to class and more than half dropped out for various reasons that include forced marriages, early pregnancies and girls being overworked in the homes and enslaved sexually and kept out of school. In many instances parents preferred that a boy goes to school and a girl starts making plans to get married. To me discrimination of the girl child started in the home and the school which was supposed to be a safety net for girls was not eager to track those who dropped out and even those who came to school to have the register marked as a formality. But when I saw girls dropping out I also thought that the future woman leader was also dropping out, because without education girls cannot go anywhere.
But what blew my mind was a story of a young girl aged thirteen called Leona, she was at school and she had been raped by her mother's boyfriend at knife point. Her mother worked in a pub and so left her in the care of her boyfriend. That really angered me: a child coming to school bleeding, with sexually transmitted disease, and the school not taking notice. The home had made her a victim. There was patriarchy at the school: it was all about the school head; who was male; it was about the head boy; it was about the male teacher who took girls into store rooms and turning them into sex objects. So Leona and other girls like me had nowhere to turn to for support and encouragement. So I wanted to challenge everything that patriarchy built up to the detrimental of the girl child. I thought without a girl we don't have a woman. So I can say I felt anger, I felt we were losing the girl too early and the loss was one girl at a time and if a good survey put the numbers together that was massive destruction of human potential. I felt whatever we had to do to help women later on would not reverse their situation if only we had done something when the girl was still young. To me prevention was better that cure and this is when I felt my story and the stories of the girls I taught in my class could be the foundation upon which we built the Girl Child Empowerment Model; where the girl child is at the centre of all development and supported by the home, school and community.
My determination is to see a girl who constantly talks to self that it will be well; we are not born victims, we are born victorious. That is the message I wanted to give to the world. To say even as a poor girl I can stand up and do something to transform myself and that I am not worthless as society wanted every girl to be; Even as a poor teacher in a classroom who had experienced abuse I wanted to do activism in that classroom and stop whatever patriarchy instilled in boys to be bullies. Oftentimes many people think as individuals they cannot change gender inequality but I did change boys in my class to stop something like jeering girls when they spoil their dresses with menstrual blood. I was not by then a big organisation but my past experiences shaped my leadership of a gender equality agenda at a basic unit like a school. I did not want to think inequality would be spoken out against at some white elephant organisation or in speeches by policy makers but by me in the home, school and community. So I started with ten girls from my class and ten girls grew up to 2,000 and then to 18,000 across the whole country until in 2009 Girl Child Network in Zimbabwe became one of the biggest movements for girls in Africa with mostly rural girls joining to bring the membership to 70 000 girls. I saw girls I role modelled into women leaders, one by one graduating in college, and that gave me the determination to say it's possible, it can be done – as even with me it was quite possible without a mother, a mentor or any woman to inspire me. So I can say that's why I founded Girl Child Network.
But when it comes to Girl Child Network Worldwide, after being exiled out of Zimbabwe, after my life became so, so threatened in Zimbabwe, I took just my handbag, my vision, my mission, and from my small village went out to the global village. I began to tell my story and for the first time I saw myself an African woman setting up a specific girls fund to help those girls I left in small villages of Zimbabwe. I had seen how hard it was to get even a ten dollars to seek medical help after rape and I thought I would be transform myself into a grassroots donor who builds funding girls can easily access and without too much bureaucracy; trusting girls that they meant well. I have so much passion to build girls lives not by making a hands to mouth donation, by instilling skills and a vision that makes girls be in charge and in control of resources, programs and everything. This is what I have developed Girl Child Network Worldwide into; an international grassroots organisation connecting girls in Africa to innovative ideas, funding and human resources to break vicious cycles of poverty and violence and I just want this funding to empower them to reach their potential as future women leaders even to take it over and make it bigger. Girl Child Network Worldwide means girls are connected to the world from their small villages to grab whatever opportunities we present to them. We are mobilising the world to the rescue of invisible girls in Africa.
What made me form Girl Child Network Worldwide was my desire to put girls empowerment and education fund together. I know we are so accustomed to African women leaving everything to Western women to fundraise for us, but I felt an opportunity to be in a country like England would be an opportunity to source donations, information, gifts in kind that we can give to girls in our small villages and make them develop projects that are more sustainable and not one off pilot projects I have seen in the past. It's not all about money only it's also about opportunities that we can open up for girls in terms of even accessing educational opportunities, mentors, role models and just everything many people may take for granted. For instance developing girls projects like bread making and reusable sanitary pads gives more sustainability to the work they do. So that dream has been realized: Girl Child Network Worldwide is officially registered in the UK and for two years we worked to raise awareness on this new vision and now we have all our supporters and donors helping us to mobilise for our Girls Empowerment and Education Fund. The world has heeded call to support and we now we have just started a movement for girls worldwide that will transform their lives.
Girls movements in Africa are becoming bigger and stronger with women like Anita Karoma from Sierra Leone, Memory Bandera in Uganda and Edinah Masanga in Zimbabwe who are passionate advocates taking girls to even greater heights. Our girls movements comes at a time when we can easily connect from round the world given social media like Facebook and twitter unlike in the past when it was hard to do so. Girls in rural areas will access everything that girls in more resourced places have. No girl is going to be left out in our movement and that's why we take our movements to market places, bus stops, schools, and just everywhere. So ours is a global movement starting from a small village in Africa coming to the world and mobilizing everyone to come.
Q: You have received many awards for the great work you are doing to empower African women and girls, what is your biggest achievement to date?
My biggest achievement is the transformation of the 'perceived victim' into a leader. I'm talking about the 300,000 girls I can proudly speak about to say they are now women leaders because I made direct contact with them in Zimbabwe. I recall that I started off with girls aged 12 and by now they are aged 22. The girls who are now young women come to me and say, 'you inspired me'! "I didn't stay in my poor village. I've joined empowered women like you." What more did I want to achieve other than to raise a poor girl from a village so that she is in a university, so that she is the foundation for future generations of women leaders to come. That's my greatest achievement. And just to know that a girl somewhere is no longer a victim, she is victorious is all I wanted to achieve and I am so happy daily a girl emails or texts a message to me to say she has achieved something in life.
Q: What do you consider are the gains made and the gender issues that need to be addressed to improve the lives of women and girls in Africa?
First of all I will talk about the gains. The gains have to do very much with a generation of women like us who then came up to say 'we can do something about it'. Mostly it had been food aid African women received. It had been the face of the African woman crying and victimized that we saw on fliers, posters and television. I am relieved to say that is fast fading and many faces of African women are appearing in many places in the world with smiles and a spirit of fierce fighting, determination and success. We hear voices that speak of power and leadership unlike in the past when African males appeared as if they were the only ones in the continent. At least if we ask even children to say out names of African women leaders, they will say that with ease. Positioning of African women leaders at strategic leadership positions is a huge gain for women which they must capitalise on in Africa. Some women have been supported in their countries and in their local communities to stay leaders and victimisation has been minimal. That is huge achievement because previously we didn't have any woman who'd stand in parliament; we wouldn't have any women who would be at a university as a professor. This is a major break-through into male dominated fields and that is our major gain as African women to infiltrate patriarchal institutions where male power is concentrated.
I think the way Girl Child Network brought out stories of girls who are invisible in Africa is a major gain for African women. It is a story that is pivotal to any growing movement; when the girls' movements started sprouting out all the world one cannot deny the inspiration Girl Child Network success story had in many advocates who emerged. We felt our voices, spaces and choices. We used to know about brownies and girl guides; these were mostly founded in western countries and then exported to our countries and the reason not many girls participated is that many could not afford the uniforms and other basics to go with such movements. Not that they did not change the lives of girls in Africa but deeper cultural issues could not be uprooted without a movement of girls who could challenge the status quo in the homes.
In terms of what we've gained it is the empowerment of girls and their breakthrough into male dominated fields; where we are beginning to see African women's faces that are quite prominent. So the girl child is never left behind. If over the past decade, I managed to pull 300,000 girls out of a situation where they thought they would get married and disappear into kitchens and bedrooms and empowered them to be the leaders they are today then this is a major gain because in the past no space was allowed where girls could be taught anything other than how to sexually satisfy a man in marriage. There is equal playing field for boys and girls, men and women these days and we are duty bound to educate girls to know what opportunities they have as a result of how attitudes, beliefs and practices have change politically, socially and economically. At least none of us is forced be registered under their husbands or brothers or any male in order to be in school, buy a house or do anything. In many countries in Africa women have a space to do whatever they want. There are at least basic human freedoms granted to us and we must now be empowered to take everything given to us
And in terms of the challenges, there are many challenges facing African women and girls. We still have the harmful cultural practices devastating the lives of women and girls. We still have religious extremists and traditionalist who have too much authority in our villages, in our homes and who still dominate our lives and our bodies are owned by them. So those are the ones we are most worried about. In 21st century we can't keep on raising awareness on obvious issues like female genital mutilation and other harmful cultural practices like forced marriages that are supposed to have been completely stopped. We are talking about women dying; we are talking about girls who are dying as a result of such harmful cultural practices. For instance, we wouldn't expect a girl aged 10, 11, 12 to be married to older men who are 70; that's mass murder, that's killing. So I think the effect of allowing some men to hold on to the traditional and harmful cultural practices and continue to destroy the lives of women, is a clear challenge to us that there remains a huge gap. Patriarchy keeps using culture as an excuse to fulfil sexual desires and harm even more women and girls as well as mentally and physically enslave them.
And then in terms of our laws that are supposed to protect women and girls, they fall short at implementation and so they remain as paper work and window dressing. I am very much concerned about those laws which are not protecting but they are actually perpetuating harmful cultural practices. For instance, if you take countries like Zimbabwe, there are still laws going round that women cannot inherit and changing such laws has been very slow in traditional circles. Traditional law overrides whatever laws are in place to an extent of allowing child marriages. The laws are not harmonised and everything they say is to ensure women and girls are losers in family wealth and their health and well-being. If we look at laws on polygamy for instance; allowing a man in this century, given the HIV and AIDS pandemic to marry more than one woman is much more than perpetuating violence against women; it is paving the way to men doing whatever they want with our sexuality. That is a massive gap because once you are sexually abused, once you lose confidence, once the home, the school or the society holds you back, you cannot achieve much and it is very hard to cover the gap in terms of getting to where men and boys are. Patriarchal systems and institutions of justice, education, employment, businesses, health, social welfare and police are dominated by laws favouring men and coupled by beliefs and attitudes of women being second class citizens has devastated the lives of women. To think in a country like Zimbabwe a church like Johane Marange can be allowed to marry girls as young as 10 and have politicians endorse them as a church is quite scary. Feminist institutions that are supposed to give women and girls the space to develop are not yet there. The laws are there on paper but due to attitudes, practices and beliefs those laws have not been translated into action that can be used to protect women. So, the suffering of women in Africa, despite the laws being there and despite all the speeches that have been made and despite all the platforms that we know have been created , the lives of the women and girls in Africa are still under attack and seriously threatened. That is why men in such institutions like justice can just permit a case a woman brings to court to drag on for a long time until a man who is the perpetrator triumphs and never gets to be punished and so develop many other perpetrators walking scot-free. Religion and traditional customs are still institutions where patriarchy thrives. I think we have not been bold enough to make laws that simply scrap off anything that is culturally harmful to women and girls.
And in terms of women leadership in the continent we recently had Malawi`s Joyce Banda and Liberia's Ellen Johnson being our confirmed Female Heads of States in a century in Africa. In the African Union we have Mrs Zuma. So yes, they are trickling in, but the holders of o power the ones who are still controlling are the men because they are still in large numbers in parliaments and everywhere. And when we talk about economic empowerment of women we still have millions of girls who cannot access education, we still have women deprived of education, we still women many women in Africa who labour in the fields to feed families and work so hard to have an income and put a meal on the table and yet such women cannot be protected from violent partners who forcibly destroy their economic ventures and even force them to surrender their income for beer drinking to them. Women`s economic power is not protected because they are violated in their homes and most of the money they work for is taken and used reckless lifestyles by men who are violent.
So I still push for the Girl Child Empowerment Model, it has worked for our girls in Zimbabwe and other parts of Africa since 1999. I had girls joining at age 16 and they are now 26; one of them is now a woman leader in Uganda, got married and is bringing up a healthy family in a nonviolent home as well as balance her work for women and girls with support from a good man. So I can safely say the Girl Child Empowerment Programme, though it targets girls, also compliments all other projects that other organisations are doing out there. It is model that positions the girl child at the centre and she remains strategically positioned to influence policy makers , school, home and everywhere. So I can say with confidence that those programmes are influenced by the Girl Child Empowerment Model have worked and no wonder in new countries where the model is replicated there are some notable changes evident with girls being more visible and empowered than before. If we don't give girls the best foundations, we should not expect the roof to stay on top of the house; we must strengthen the base – and we must not be apologetic about why we are empowering girls. I know most people are coming up with books and papers about how best we can involve men in our empowerment model and get more men involved in women's programmes but such studies and people who are doing them must be sensitive without creating a space for girls to empowered we are perpetuating same gender inequality by shrinking a space for girls to grow and be empowered. Men and boys have men spaces to support empowerment of women and girls and it is those institutions we should worry about and not the movements women and girls are creating as their spaces. Men are the majority of appointed ministers in governments, they are the presidents, they are everything and having them control women and girls movements as we have seen happening in the later part of the decade is just donor driven to achieve what certain men want and not what women and girls want. Rather than worrying about women and girls involving men and boys in their institutions we must ensure men and boys involve women in their many patriarchal institutions. We want to see women who are bold enough or empowered enough, and who even in their small numbers, can stand up to and challenge the status quo. So if we continue perpetuating a system where even when we create spaces to make women strong and to make them powerful , and then we cry over bringing women and men together in those spaces too quickly we are actually destroying the groundwork made by those women. We must dismantle patriarchy and not women`s movements. But for a start I can proudly say that 300 000 Girl Child Network empowered over the decade speaks volumes of what it means to empower a girl who chooses a violent free life and stands for her rights and respects the rights of others.
Some of the girls later on in life choose to run for office and so the foundation for girls is very critical to let them grow in spaces they are free to think what they want with no men standing on their way. I want to say yes, as African women we can do some programs with men and others by ourselves without including men if we don't want them in our spaces. Most programs women chose not to include men had special reasons but because we can't fund those programs donors made a choice for us to include men else we would not be funded. Patriarchy is so instilled in the donor community and so whatever we set up to do is not dictated by us but by donors who give funding. There are some men and women in the donor community who are part of the patriarchal system, they are compromised and it's very hard for them to say no to men infiltrating women`s spaces and always ending up with men taking over the movements and making them their own and reversing all the gains. So creating spaces for women to transform in the absence of men is something I recommend. So I would say let's keep the spaces we've have made for girls and lets have more movements for girls.
Considering the high rate of girls that drop out of school, especially at higher level, how is your organization addressing the underlying causes of this problem?
I.e. Obligations to stay at home and look after younger siblings, early marriages and pregnancies, parents opting to pay for boys' higher education, have your strategies been successful.
Yes our strategies have been successful. But I want to be clear, what strategies they are. Our strategy is the girl-child empowerment model. With that, we place the girl at the centre of our program here we instil, provide and facilitate the means before she turns 8. Before a girl turns 8 we can instil confidence and life survival skills that we take her to teenage life and unteach what patriarchy teaches in the home that goes as far as thinking dolls are for girls and cars and planes are for boys. Giving a boy a plane as a toy teaches him to fly and giving a doll to a girl submits her into the home as a wife and a mother. As a girl grows into her teenage years, she is now already having the attitude of dreaming to achieving something better than being domesticated. She has an empowerment goal. She has goals and knows where she wants to go even if her family says go get married, she will resist. So those basic and fundamental skills to critique and to mobilize in the home for support is what we have successfully done with 300,000 girls in Zimbabwe over the last decade. And now we have moved onto countries like Swaziland (Where they have the reed dance in some villages where the chief can just pick a girl to marry and reducing thousands of girls into sex slaves), we have come in other countries to transform girls from being just sex objects, (and not being apologetic about it) and instilling the girl-child empowerment model. But also what we have done is with some churches is that we have not been apologetic about calling a spade a spade, we have told them point blank that they have to stop child marriages. Some of them have responded positively and have started helping girls go to school. What has been critical is a situation where we actually create our advocacy and lobbying by first identifying and including men and boys of quality and equality who are now beginning to acknowledge that girls must be in school and be educated.
We started a campaign called Girls Into Classrooms and Into Bedrooms where we make a special invitation for girls forced to marry to come out and join our clubs empowerment clubs and be rehabilitated back into school. But also we have intensified our maintenance law implementation work where we help girls who feel they have not been given enough support by parents to use the law and claim child support In many cases that has worked very well. Girl Child Network spent US$ 2 million out of a decade funding of US$10 million investing in girls education. Five thousand girls in Zimbabwe graduated into college as a result of this education fund and many have taken up different careers
Q: Sexual and reproductive health and rights issues are largely a taboo subject in many African settings, yet it holds the key to advancement of the gender agenda, do you think enough is being done to realize this right?
We are still a long way to getting the issue of Sexual and Reproductive rights of girls understood. It is still a taboo topic in most homes and yet most deaths happening amongst girls are as a result of issues around sexual and reproductive health. We have not reached 20% of these rights. Girls have no rights over their sexual and reproductive rights. Instead parents, traditional and religious fundamentalists have full rights over girls bodies. They are the ones who traffic them to men under the guise of marriage
Virginity testing is rampant and there are men out there looking for virgins because they think it is cure for HIV/AIDS. Forced marriages, labia elongation and other sex initiation practices are prevalent and these hamper a girl from developing to full potential.
.
Q: In Oct 2010, the AU launched AWD (2010-2020). What are your thoughts about this landmark decades?
You know this is not new. I have become very sceptical about launches of new things when we have not evaluated what we already have. For instance, we have already the AU protocol on women's rights which something drafted and signed by the AU. This ended up in talk shops and a lot of money was spent drafting this. If most countries have not implemented what is in the AU protocol on women`s rights why do we launch other campaigns where we have not done something as basic as granting freedoms to women in Africa. What use does it have for the poor women for elitist groups of women trusted with improving on basic needs of women to keep launching things when we cannot provide a school for a girl in a village or a clinic to a pregnant woman? At the moment we have many campaigns that are going on in Africa and to think someone would want to fool us into believing this campaign is different is something we must join and speak out against. At the moment we have not acknowledged grassroots women and their needs and yet we gather in expensive hotels to give speeches and organise workshops to spend money on travelling when poor rural women need just basic equipment to keep their work going. This is not fair at all. We have not done very basic things for Africa women and this includes giving the poorest in the continent the space to be heard. There are also other campaigns like the MDG Millennium Development goals and we are now in a mixed bag of campaigns, we are almost competing on naming things around campaigns rather than evaluating the campaigns that have already been launched and where they are. No name of a campaign can be bigger than the grass root movement for women on the ground. who yearn for basic health care and education. Whatever we are going to launch as a campaign for women in Africa we need to ensure there are basic needs at the village level. So I would not want to dismiss it because it is someone with his or her own agendas but enough respect to us women in Africa, many such campaigns do not change much other than to make individuals make money and their names at the expense of practical economic empowerment projects on the ground. So come on my fellow women in Africa, let us think again, can campaign after campaign be what we want? Look at the people launching these campaigns; know who they are and their motives are? Where are they coming from and what other campaigns they formed and stopped and taking us for a ride? As for me I have my one campaign own going on in the world and it is called "Never Again." Expensive campaigns that create jobs for a few elite people are not on my agenda. Such campaigns come and go and poverty for young girls in Africa stays forever.
Q: Access to justice, ignorance of the law and economic empowerment remains a mirage for many women in Africa. what can be done to remedy the situation?
What we need to do is set up institutions of justice that women can access. When we looking at women in Africa they have got knowledge of what they want, there is abundance of knowledge. They know when they are trouble in the home they need justice. What they do not have is access to the power holders. What happens if you go to a court with no justice? Women are not ignorant of the law it is just that they are not given the courtroom to stand up and speak. The chief declares justice at the rural level; we have put males as head, so where can women demonstrate that they want. They do know the law but they have no access to the law. Women know what they want but they cannot be given what they want by patriarchy.
Economic empowerment, small banks are absent in villages, it is hands to mouth. Any economy that thrives is because of women have market places, because they trade, plough and harvest. If families have been fed and many poor kids have been sent to school the issue remains is the that the story of the African women have not been written which is why today I wrote my 600 word autobiography to show we are not always donor dependent. The way we have been working with donors we as African women have given knowledge, time and skills only in an enabling environment can you do more. .
Q: What do you think can be done to address child marriage and Female Genital Mutilation on the continent?
My idea is simple. This is not negotiable. Child marriage destroys the African girls and consequently the African woman. Female Genital Mutilation is dangerous. If we are not cutting male organs in Africa why are we cutting female organs. What is the justification? A knife on a vagina is not negotiable, it evil. What justification is there for using a broken glass, razor blade or anything that is sharp and so dangerous on a girl who cannot defend herself? Symbolically cutting the labia is cutting the woman because such a private and delicate part of a woman holds power and femininity. If we cut it we are endorsing the destruction of the African women physically and psychologically. I am challenging African Women to say, No because this is unacceptable. We must have one message to our leaders, "Stop It, Never Again, Not to Any Women".
Q: Having worked over 20 years promoting women's rights in Africa, what do you think has been achieved in relations to women's rights on the continent?
I started standing up for women's rights at age 6. I told my mother to stand up against violence that was happening to her but stopped me from talking about it with her index finger. Since then I have defied being silenced and been standing up for women's rights. However despite the challenges women coming up with different movements is a huge achievement and this is despite all the resistance. What we need to do as women is to combine forces and work together. We should not fight or destroy each other and we should not pull each other down. According to me , 20% has been achieved in terms of promoting women's rights we still have 80% to work on.
Q: What drives and inspires you to work for women's human rights and what is your vision for African women/girls in the next 20 years?
I think what inspires me is to see a girl who we think cannot do anything in life standing up to say, "Betty Makoni, because of your words, because of holding my hand, I am now the woman I am supposed to be." What really inspires me too is that all the girls that I worked with are not victims but they are victorious, three hundred girls who are speaking out and who are in different careers is what inspires me. I yearned for change and today I see it. It is through word of mouth that my movement became very strong and it is through word of mouth that generated a speech in me to say yes girls can be empowered. The little girl in me that nurtured and empowered herself is the little girl I hold on to everyday. I educated and inspired myself and daily I woke up with a small diary where I wrote my goals and aspirations. I read to myself what I wanted. I am also inspired by my own personal story, the story of my mother and grandmother and the stories of women like you who stand up to do something to change things.
I think my vision for African women and girls is that we should take over the continent, men have led us in the past decades without gender equality in all spheres of life. We must strike the balance now and get more women involved in all male institutions. It has already started with Ms. Zuma taking over the African Union, Ellen Johnson, Graca Machel, Joyce Mujuru, Thokozane Khupe and many other women in the continent standing up to lead. We have women who against all odds have taken over; nothing stops women from occupying spaces of leadership. We should have women who are free to rule, place new rules and restore the values of family that have been destroyed. But most important I am seeing the girl child as the basic foundation on which we build the African women. I am seeing the girl child being respected like the boy child and so changing the status quo in the next decade.
Q: Africa has made headlines in its recruitment and use of child soldiers, but what is overlooked by many is how many of those children are girls. Is your organization doing something about this and what would you suggest as a solution to this problem?
Africa simply has to end wars. Europe, the United States of America and many other Asian countries have ended wars. Only Africa is fighting and we should sit down and ask why and with what benefits? We can't keep fighting forever and use our children to kill each other instead of developing the continent. United kingdom means that that it is a country uniting for peace, the United States means 52 states united for peace, democracy and good governance. There is no reason why Africa should be involved in wars when there is a war we must wage against poverty and disease. Wars should have been stopped all wars after World War 1. Whoever is starting, funding and benefiting from the wars, should be exposed, named and shamed.
A child is not a soldier; a child is vulnerable human being to be protected and so those recruiting child soldiers should be prosecuted. Recruiting a child for war is like recruiting oneself, your village, and your country to destroy itself. Children do not consent to fight; children should not be at wars started by irresponsible adults. I think the war we have now is to ensure children forced to be soldiers are identified and rehabilitated and those who recruited them brought to justice.
Q: What is your take on The African Women's Decade theme on young women movement? How are you ensuring cross generational leadership mentorship?
I think the best way the world can know the best model to mentor, is read my 600 page autobiography and read how simple and easy it is to mentor young women and girls to be leaders and to help them form their own movements. Those young women I have personally mentored are working for big organisations Unicef and this it goes to show that someone like me can mentor a girl to all levels of leadership in the world. I am very proud of this and it is a model I want everyone to know about.
I have started a campaign called Never again which young women can use as a stepping stone to their leadership in the women`s movement in the future. This starts at personal level. There is no way you can transform others if you yourself is not self-transformed. With this generation of young girls there is no way that technology can leave you out of activism. There is no reason to be left out of what you want to do in this world. Young women should take advantage of social media and use it to advance for the causes of women and girls because everyone these days is their own media.
I also see a big potential where young women develop social enterprises and not charities. That way you do not lead a life of a beggar like what happened with our generation where one had great a vision but no money to fund it. Income for your development work must be generated by service users as donor funding does not last forever. The thrust should be on developing social enterprises as opposed to charities so that as you provide a service people value and pay for it.
In terms of the AWD theme on young women, I think this is the way to go, the young women need to carry over our legacy. I am no longer on the front line like I used to be in the past decade. I am now a mentor and a coach for young women and girls. We are the consultants and we expect young women to turn to us for advice and inspiration whenever they need us.
Yes the decade belongs to young women, let us hold their hands and help them build their empowerment handbags. In it we put all the gender equality tools and to young women my advice is, 'Your empowerment handbag should have your bank card, keys to your house, car and certificate; enter any friendship or relationship with your empowerment handbag. When you need anything to take you away from danger you go with the help of your empowerment handbag.` That is the simple leadership I am building amongst young women, an empowerment handbag that takes them to freedom for life. Empowerment ladder is another one that they must start climbing from age 6 to age 21. By age 21 an empowered young woman must own something to sustain her life.
I think that is all for today. Thank you so much for inviting me to be the face of the month and also to be profiled in your highly esteemed work. Keep up the good work and well done for everything you are doing.