Rolake heads the Energy and Oil & Gas Research at pan-African Ecobank. She is the bank's energy and natural resources expert, and manages Ecobank's research output across the energy industry value chain, covering a wide range of energy products and industry players. She provides strong expert and advisory support to the investment banking (M&A), asset management, commodity & trade finance, project finance, and Group strategy teams in generating investment ideas and strategies for clients, as well as sourcing new deal opportunities in the industry across Ecobank's 34-country African footprint.
Her interests include global energy, sustainable energy solutions, oil and gas markets and fundamentals, upstream E&P trends, LNG projects, petrochemicals, energy security and energy access, refined products, natural resources policy, and the role of emerging market players such as China in Africa's natural resources sector. Rolake is also team leader for Ecobank's market-entry advisory initiative, LocalKnowledgeAfrica™, which seeks to match investors with new acquisition opportunities across the bank's pan-African network.

Prior to joining Ecobank Rolake was the lead country risk analyst for Francophone and Anglophone West Africa and the Gulf of Guinea at the New York-based global risk consultancy, Eurasia Group, focusing on the oil & gas and mining & metals sectors. Previously she was a Senior Africa Analyst in the global risk analysis team of London-based Control Risks Group, advising leading multinationals on business and investment risks in West Africa and natural resources in Africa. She has also worked for the International Crisis Group in Senegal, the European Commission in Brussels and the Foreign Policy Centre, and is a member of the board of directors of the Business Council for Africa (BCA, UK).
Rolake is a regular media commentator and conference presenter on global and African energy and natural resources, and investment. Rolake is also a jazz and classically-trained pianist, writes on natural resources in Africa, and is also a monthly reviewer of global news headlines on the BBC World News. In her spare time, she also runs a public speaking training initiative called VoxArticl8™ and is currently setting up a social entrepreneurship initiative on sustainable energy access for rural African communities. She was born and grew up in Nigeria, but has spent the decade or so living and working in the UK, while travelling regularly to Africa. She has also lived and worked in Senegal and has a Bachelors and a Master's degree from the London School of Economics (LSE).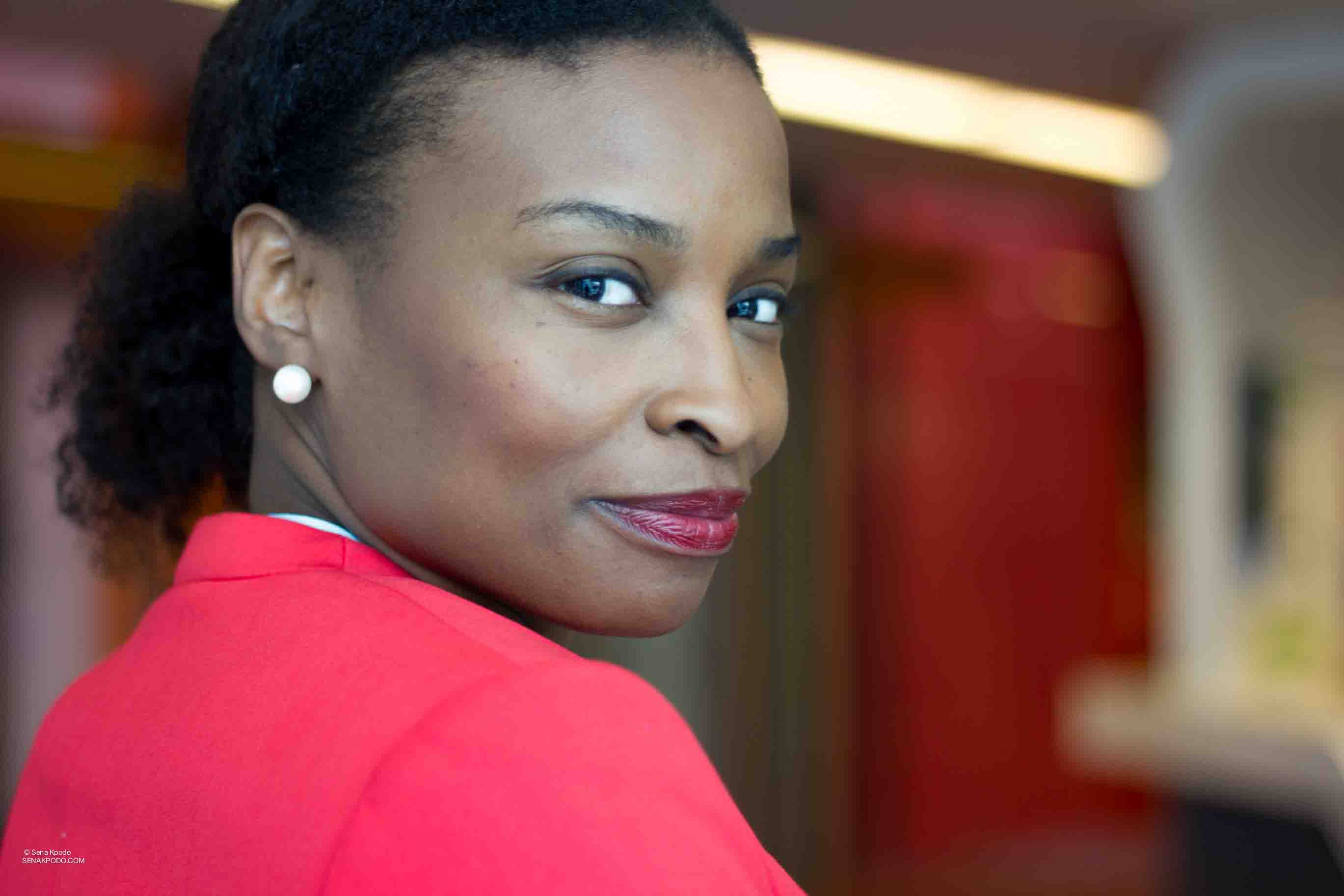 Rolake Akinkugbe

Q: With your remarkable experience and expertise in the Oil, Gas and Energy Industry as well as in investment banking; a sector that is mainly male dominated, what are your efforts if any to promote the economic empowerment of women and entrepreneurship across Africa?

Well for one, I thinking my main focus is pursuing excellence and professionalism in all I do. While I'm aware of the limited visibility of women in my field, I don't necessarily focus too much on the fact that I'm female. My main aim is to get the job done and do it to the best of my ability. Though it would certainly be naïve of me to say that I'm not aware that other women might except me to somehow represent them and their struggles. In light of this, I am definitely big on mentoring for young women, and specifically dedicate my time to two young African women keen on charting both professional and entrepreneurial paths for themselves. I have also embarked on an initiative aimed at finding sustainable energy solutions for rural communities in Africa – women are more likely to be impacted by reliance on biomass with all its health and environmental implications, and finding more sustainable ways of using and consuming energy can go a long way in improving women's productivity. Finally in my field, I always accept opportunities to speak and inspire others. Women are certainly under-represented in financial services and indeed in the oil and gas industry, but that is changing. The more of us there are out there, the more doors will open for other young women, since we understand and have experienced the challenges and joys in equal measure.


Q: What do you consider as the gains made and the gaps that need to be addressed to improve the lives of women in Africa? How can women bring about change most effectively on the continent?

Well in many countries across Africa you're seeing the continued rise of women in business and politics, but there's still a long way to go. There are several firsts and pioneers who are setting the example for female leadership – Liberia President Ellen Johnson Sirleaf, Malawian President, Joyce Banda, and now more recently, interim president of the Central African Republic, Catherine Samba-Panza. Women are already bringing about change, their achievements certainly need to be acknowledge a lot more. But I think by doing what they're doing and striving to be the very best in whatever field they find themselves they will increasingly be in a position to trigger and spur change.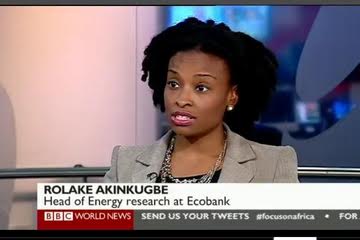 Rolake Akinkugbe on BBC World News


Q: The International Labor Organization finds that some 860 million women are excluded from economic activity, could emerging economies such as BRIC and MINT countries improve this situation?

800 million is a massive number, which I guess highlights how much more progress there is to be made. Emerging markets are of course a main driver of global demand and growth, who also host large parts of the informal economy, where woman are disproportionately over represented. Capturing even just a small share of that informal sector would bring many women in emerging markets into the formal economy and boost growth. If governments recognise the centrality of this dynamic to economic growth, then economic policies would better support the empowerment of women.


Q: What is the role of African women in the diaspora towards the autonomy of women in Africa? Is it being felt?

Women in the Diaspora with the means, knowledge and skills should naturally look to give back, either through mentoring, skills transfer or just philanthropy. However the premise of that question suggests that women are not autonomous in Africa, which is to some extent not always true. There are a lot of self-sufficient women in Africa, who cater for themselves, even among poorer women. The issue should really be about empowering women with the right skills set and knowledge that would allow them to access opportunities that can accelerate their economic mobility. If women in the Diaspora can help support this, at least that's a start. As a whole I think we in the diaspora could do so much more. Eventually many of us will return to Africa, and those of us who don't have several options regarding making a difference, even remotely.


Q: Access to justice, ignorance of the law and economic empowerment remains a mirage for many women in Africa. What can be done to remedy the situation? Women represent half of the population in Africa, yet they are nowhere to be seen when it comes to decision- making. What are the major factors hindering women political participation and decision-making in Africa? Do you have any thoughts or suggestions on possible ways to address women's this issue?

The continued reform of institutions, as well as the acceleration of female employment in key public institutions. Some legal systems in Africa, clearly disadvantage women, and these need to be reviewed. Economic empowerment comes with the ability to create value and thus create wealth. Access to capital and financing for entrepreneurial and small-scale business ventures is a key challenge. Given women's additional disadvantage with regards to education in many parts of Africa, their ability to access capital or at least meet the requirements for investment is severely hampered. The same is true about education relating to one's legal and human rights, which would then improve the chances of accessing the courts or seeking legal remedy, I presume. Raising awareness of these issue, helping to shape the way political parties for instance select election candidates to ensure good gender balance across the board, which would then improve the likelihood of women leaders, focusing on girls' education at an early stage where they're usually disadvantage in some of Africa's poorest communities.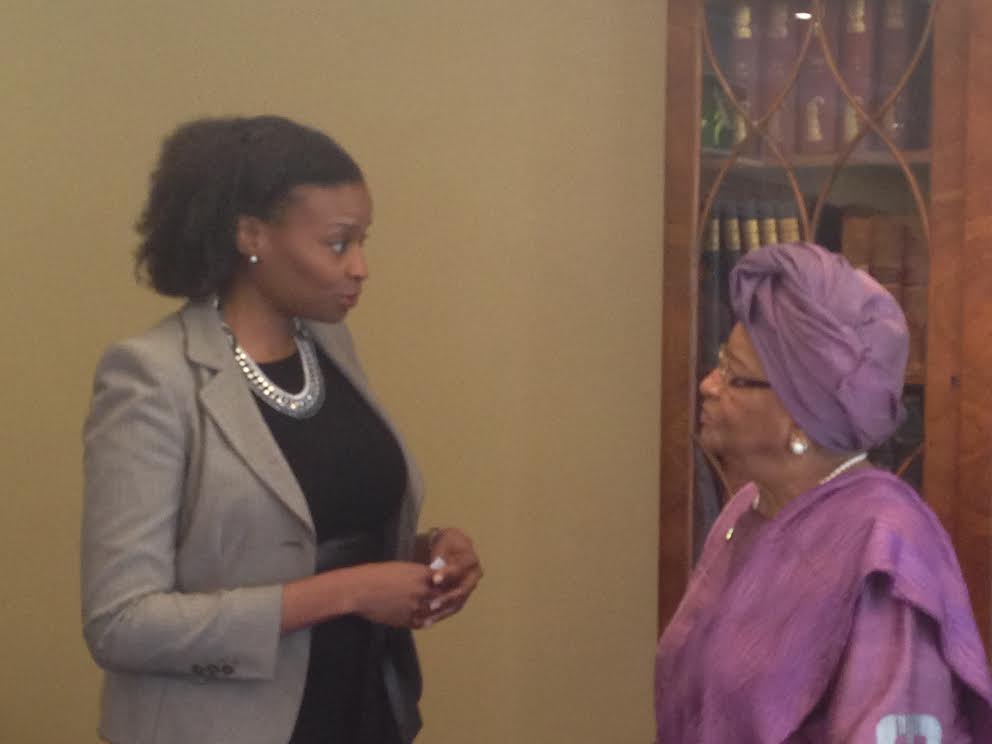 Rolake Akinkugbe wIth Liberian President Ellen Johnson Sirleaf


Q: What can men do to work towards gender equality?

Well I think men (and indeed women) in general need to more conscious about the gender imbalance at all levels of society – politics and business . Gender based policies either in business, education, politics, industry are just one way to go, and both men and women in influential positions in these fields should have a strong sense of gender awareness and apply these policies across the institutions, organisations or companies they manage. Perhaps I'm naïve, but I certainly we should all be working towards gender equality. This question assumes that it's only men that need to work towards gender equality.


Q: What are the particular challenges faced by women looking to start their own businesses in Africa and What could be done to support women in entrepreneurship?

Skills, education., and of course access to finance. But as every investor knows any business proposition has to be commercially attractive in order to attract investment. Same goes with female entrepreneurs because; many of them have not always had the same level of access to opportunities, perhaps, as their male counterparts, they have a much less chance of raising finance for entrepreneurial ventures. Programs that help women to boost and enhance their skills base and knowledge would go a long way. Many organisations and NGOs clearly have programs already doing this, but one thing is still missing – the realisation that because women have a host of other social responsibilities and are often multitasking, they need access to those sorts of entrepreneurial opportunities that help them achieve and strike a right balance between business and family. It's fair to say some women won't pursue some business or entrepreneurial opportunities because they fear the impact it might have on their ability to have a balanced family life.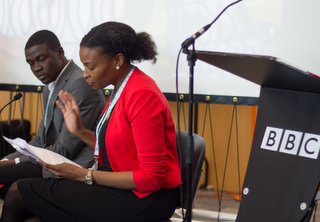 Rolake Akinkugbe moderating a panel at the BBC


Q: The Central African Republic recently appointed its first female interim president: Catherine Samba-Panza. Do you think that she is a good tool to advance women's rights?

She is in an extremely important position, endowed with a timely opportunity to reconcile warring factions in her country, but also model female leadership at a time of general political and economic disruption and hardship for CAR's citizens. She will be under pressure, but she stands a much better chance than her male predecessors in uniting CAR, not so much because she's a woman, but because of her unique leadership attributes, her reconciliatory tone, and her unique non-partisan perspective, having been Mayor of CAR's capital Bangui before she was appointed interim president. She certainly has some leadership experience, and appears to have been accepted as interim president by all sides in the conflict. That's at least a roaring starting endorsement. It's early days yet. But I know she will also draw inspiration from the likes of Liberian President Madam Ellen Johnson Sirleaf, who is Africa's first elected female head of state. She should certainly seek to make the most of her position in advancing women's rights, but her main priority will be uniting the country, and seeing it through to elections. The truth is across Africa, women have been at the forefront of peace-making and peace-building efforts for decades, from Liberia to Rwanda, from Sierra Leone to Sudan, so her election is hardly that much of a surprise.


Q: You are truly an inspiration, a role model for young African women, what message do have for them?

There are also scores of other African women who are role models for me too, and from whom I've drawn inspiration. Well what would message would I have for young African women? Be the best you can be, pursue your dreams relentlessly, be kind to people along the way. Find a mentor you admire, who is doing the same, and who can provide regular constructive and realistic perspectives on your plans. He/she will also help connect you to others and open doors. Don't shut the door on opportunities because you might be lacking in self-confidence, it takes doing to build confidence too. Build soft skills in addition to your technical and intellectual capacity. Every challenge is an opportunity to learn, don't miss those, take notes and learn lessons. Now is our time not just as young women, but as Africans who love Africa and believe in the continent's potential. Remember your roots, as you climb to the top, and remember to give back. In all you do, showcase the real story about Africa. As my late friend Komla Dumor used to say "until the lion learns to write, the tales will always glorify the hunter". Learn to write.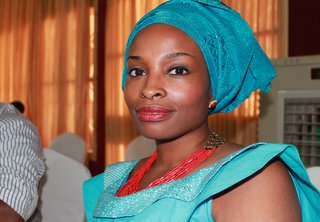 Rolake Akinkugbe